Aston University UK
[Sassy_Social_Shar]
Aston University
Aston University is a public research university situated in the city center of Birmingham, England. Aston began as the Birmingham Municipal Technical School in 1895, evolving into the UK's first College of Advanced Technology in 1956. Aston University received its royal charter from Queen Elizabeth II on 22 April 1966. Aston pioneered the integrated placement year concept over 50 years ago, and more than 73% of Aston students take a placement year, the highest percentage in the UK.
Aston's rise in league tables and rankings over recent years are an indication that our efforts to be a leading, inclusive university at local, national and global level are becoming a firm reality.
Some of our highlights over the past few years include:
2020 Guardian University of the Year
Silver Award by Athena SWAN for impact on gender equality
Top 20 for 3* and 4* rated impact by the Research Excellence Framework (REF)
Outstanding Entrepreneurial University (Times Higher Education Awards, 2020) 
Best University Careers/Employability Service (National Undergraduate Employability Awards 2020) 
Aston Students' Union 'Buildings that inspire' winner (Guardian University Awards, 2020)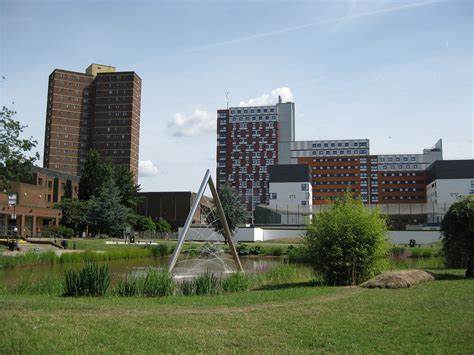 Aston University Courses
Aston university medicine
Aston university MBA
Aston university optometry
Aston university computer science
Aston university pharmacy
Aston university business analytics
Aston university MSC business analytics
Aston university engineering
Aston university nursing
Aston University Admission Requirements
Entry Requirements: HSC with 70%+
A-Levels with a minimum of C or +
P. G: Bachelor's Degree with a minimum of 60%+ some programs required 70%+
Note: Students who studied at one of the institutions may be given additional flexibility on their entry criteria.
COMSATS University Islamabad (and all of its campuses in Pakistan)
Dow University of Health Sciences
FAST (Foundation for Advancement of Sciences and Technology)
Ghulam Ishaq Khan Institute of Engineering Sciences and Technology
IBA (Institute of Business Administration) Karachi
LUMS (Lahore University of Management Sciences)
NUST (National University of Sciences and Technology Islamabad)
PIEAS (Pakistan Institute of Engineering and Applied Sciences)
Quaid-i-Azam University Islamabad
The University of Lahore
UET Lahore (University of Engineering & Technology, Lahore)
Aston University IELTS Requirements
IELTS:
Aston Medical School 7.0 in each with an overall 7.0Aston Business School Two bands at 5.5 and other bands at 6.0 and above with 6.5 overall.
P.G: 1 band at 5.5 as a minimum. Other bands at 6.0 and above with an overall 6.5
School of Social Sciences and Humanities P.G: 1 band at 5.5 as a minimum. Other bands at 6.0 and above with overall 6.5
Engineering and Physical Sciences 5.5 in each with 6.0 overall
Health and Life Sciences (except Aston Medical School) 6.0 in each with 6.5 overall
Health and Life Sciences (Optometry) 6.5 in each with 7.0 overall
School of Social Sciences and Humanities 5.5 in each with 6.0 overall
P.G: Engineering and Physical Sciences – Engineering Systems and Management Programmes 6.0 in each with overall 6.5
TOEFL IBT: Aston Medical School overall 101 with R26, W28, L26, S23
Aston Business School overall 93 with R18, W23, L,S19
Engineering and Physical Sciences overall 78 with R12, W20, L11, S17
Health and Life Sciences (except Aston Medical School) overall 93 with R18, W23, L11, S17
Health and Life Sciences – OSPAP overall 101 R26, W28, L26, S23
School of Social Sciences and Humanities overall 78, R12, W20, L11, S17
Other English tests: Duolingo 110 with 85 in each sub-score
Aston University Fee
Bachelor's
Tuition fee per year

Business Degree: 16,300 – 17400 (with placement year)
Engineering Degree: 20,200
Science Degree: 19,300 – 20,200
Psychology: 15.950
Bachelor of Mechanical Engineering, Civil, chemical, Desing Engineering,
Electrical & electronic engineering  with Placement Year (Hons) : 20,200
Bachelor of Neuroscience with Placement Year (Hons): 19,300
Bachelor of Electronic Engineering & Computer Science with Placement Year (Hons): 20,200
Bachelor of Computer Science with Placement Year (Hons): 20,200
Bachelor of Psychology & Business with Placement Year (Hons): 15,950
Bachelor of Psychology & Marketing with Placement Year (Hons): 15,950
Bachelor of Business Analytics with Placement Year (Hons): 16,300
Masters
Business Degree: 19,250 – 21,250
Engineering Degree: 19,150 – 21,650
Science Degree: 19,700 – 20,250
 
Engineering Management: 18,750
M Business Analytics: 19,250
MBA: 19,250
Psychology: 19,700 – 21,250 ?
Master of Pharmaceutical Science: 19,700 / Year