Athabasca University public research institution in Canada, primarily provides distant learning online. It is one of four comprehensive academic and research universities and was founded in 1970. In the globe, Athabasca University is ranked 1424th. ranked #44 on a national scale. The admittance rate at Athabasca University is 75%.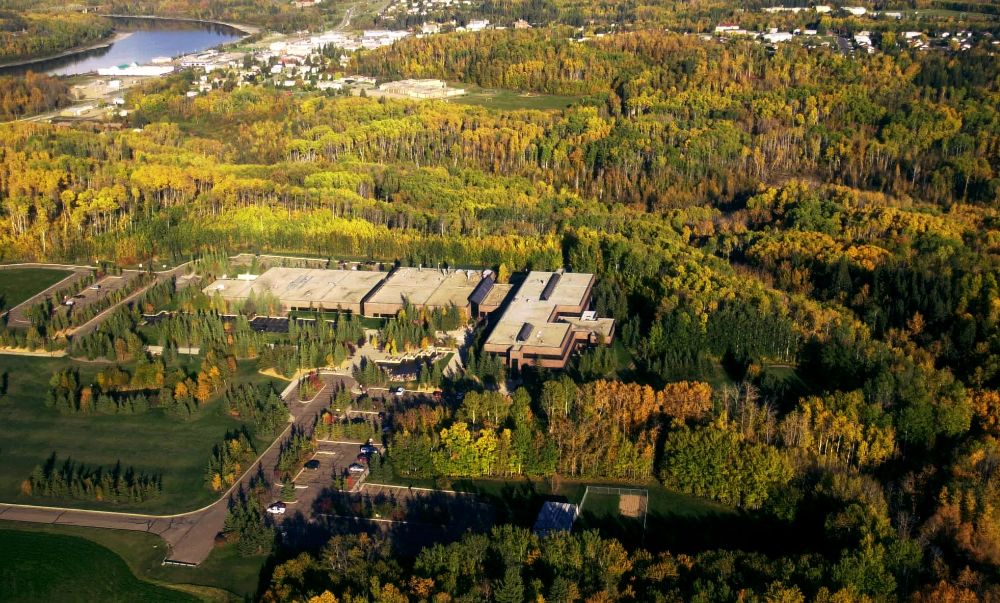 Entry Requirements:
Undergraduate:
Intermediate Certificate or Higher Secondary School Certificate A grade of 70% or higher
International Baccalaureate: minimum of 27 to 32 points
A-levels: ABB—BBB
Postgraduate:
A four-year baccalaureate degree equivalent from a recognized institution grade point average (AGPA) of 3.0
English Language requirements:
Undergraduate:
IELTS: 6.0 with no band below 5.5
TOEFL: (internet-based test) score of 80 or PBT (paper-based test) score of 550
Postgraduate:
IELTS: 6.0, with no individual band below 6.0.
TOEFL: The minimum satisfactory score is 550 (PBT) or 80 (iBT)
Tuition fee per year:
Arts Degree: 18,690
Architecture 18,690
Business Degree: 18,690
Engineering Degree: 18,690
Education 18,690
Health Sciences 18,690
Law 18,690
Medicine 18,690
Nursing: 18,690
Physiotherapy: 18,690
Psychology: 18,690
Science Degree: 18,690
Postgraduate:
Postgraduate Diploma in Environmental Public Health Practice: 13,050
Arts Degree: 18,190
Architecture 18,190
Business Degree: 18,190
Engineering Degree: 18,190
Education 18,190
Health Sciences 18,190
Postgraduate Diploma in Information Security: 13.050
Living cost:

Student residences: 250 – 625 CAD/monthbasic utilities (electricity, water, heating, garbage): 150 CAD/monthinternet: 50-70 CAD/monthtransport pass is 90 CAD/month
Admission fee: $123
Undergraduate General Application Form
https://www.athabascau.ca/registrar/_documents/ug-gaf.pdf
Undergraduate Course Registration Form
https://www.athabascau.ca/registrar/_documents/ug-crsreg.pdf
Undergraduate students
Admission requirements:
There are no formal admission requirements for either the 3-year or the 4-year program. All you need is to be 16 or older. You can enroll anytime and start right away, regardless of your previous education.
Most graduate programs have specific intake dates. If you miss an application deadline, you will have to wait for the next intake to apply
https://tux.athabascau.ca/oros/servlet/DispatcherServlet?action=GRApplication
Scholarship:
Undergraduate/ Postgraduate:
AU Undergraduate Outstanding Achievement Scholarships
Donor: Athabasca University
Value: $1,000 for degree program recipients; $500 for certificate or diploma program recipients.
Number awarded: One for each year of an undergraduate degree, certificate, or diploma program.
Award details
Students may receive these scholarships once in a year of program study, as defined above.
Please note that this is a "Nomination" type of award for which there is no application process required. The recipients are determined by an internal selection process and notified directly of their award by the AU Student Awards Unit.
Alberta Graduate Excellence Scholarship
Value Minimum award of $11,000 and maximum of 15,000
Eligibility Criteria
You must be enrolled full-time in a master's, doctoral, or graduate level program. Graduate level programs must be able to ladder into a master's degree program.
To receive this award, you must also be enrolled in:
At least 60% of a full course load (40% of a full course load if you are a student with a disability) in at least one term of study in a graduate program, and
the Fall 2022 and/or Winter 2023 term.
Applicants must also meet one of the following eligibility criteria:
Canadian citizen, Permanent Resident of Canada or Protected Person,
An international student, or
Status Indian/First Nations, Non-Status Indian/First Nations, Métis or Inuit.
Wayne Perry MEd (DE) Student Research Award
Donor: Dr. Pamela Walsh
Value: $1000
Number awarded: 1
Annual application deadline November 15
Award details
The Wayne Perry Master of Education in Distance Education (MEd) Research Award is awarded annually to a student at Athabasca University. It provides recognition and support for exceptional students pursuing a Masters degree through the Centre for Distance Education at Athabasca University. This award intends to provide the student with funds to support their graduate research.


Conditions of eligibility:
An applicant must meet the following criteria to be eligible to apply for this award:
Be a current student of the AU MEd (DE) Program
Have successfully completed at least 12 months of the MEd (DE) program
Have minimum GPA of 3.5
Have completed or be currently enrolled in their third thesis course this calendar year – MDDE703: Research Proposal Writing
Be in good academic standing
Have not received this award
Submit a fully completed application, and any required enclosures, to the Student Awards Unit at Athabasca University.
Application form
https://www.athabascau.ca/support-services/_documents/student-awards/app-wayne-perry-med-de-student-research-award-v-oct-28-2019.pdf