Queen's University Canada
Queen's University is a public research university in Kingston, Ontario, Canada. This university holds more than 1,400 hectares (3,500 acres) of land throughout Ontario and owns Herstmonceux Castle in East Sussex, England. Queen's has eight faculties and schools.
Queen's is located in the city of Kingston, Ontario, Canada, halfway between Montreal and Toronto, two of Canada's largest cities. Kingston is situated on the shores of Lake Ontario, near the entrance to the St. Lawrence River and Thousand Islands, and the Rideau Canal.
Queen's University's community of students, researchers, staff, and alumni all contribute to making a positive impact as measured by the UN's 17 SDG criteria. THE Impact Rankings acknowledged Queen's as:
1st worldwide for SDG 1 'No Poverty,' and SDG 16 'Peace, Justice and Strong Institutions. This was exemplified by Promise Scholars, a program designed to reduce financial barriers and increase access to Queen's for local, first-generation students. The university also helps the next generation of policymakers through programs and research led by the School of Policy Studies, in addition to significant collaboration with all levels of government.

A leader in advancing programs that promote equal access, equity, and diversity, because of initiatives like the Queen's Equity Locator App, a map of accessible and gender-neutral spaces, and specialized pathway programs for Indigenous and Black students.

Queen's supports air, land, and water ecosystems through initiatives such as Queen's Climate Action Plan, which is committed to climate neutrality by 2040; the Queen's University Biological Station, one of Canada's premier scientific field stations; and the Beaty Water Research Centre, which fosters interdisciplinary research and outreach in water governance, sustainability, and protection.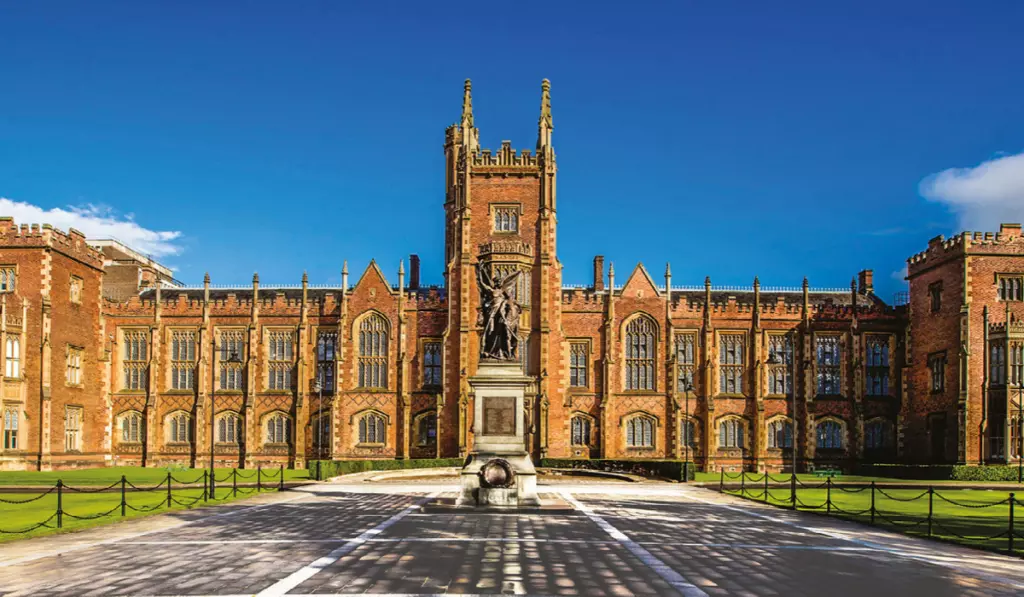 Queen's University Admission Requirements
Queen's University admission Requirements for international students
Requires 3A Levels with a minimum 3Bs or more. Or minimum Grade 12 average of 80% or equivalent.
Postgrad Entry Requirements
Minimum of 4 years of study with 1st Division (70%) in the last two years of a bachelor's degree.
QU English Language Requirements
IELTS Requirements – Minimum requirement is an overall band of 6.5 and 6.0 in each component.
TOEFL– iBT: the minimum score is 88, with 24 Writing, 22 Speaking, 22 Reading, 20
PDT (Paper-delivered Test): the minimum score is 65, with no individual score below 20.
University Tuition Fees
Queen's University tuition fees for international students
Undergraduate Tuition Fees
Business Degree: $ 24,300 – 25,463 annual fee
STEM Degree: $ 25,463 – 32,286 annual fee
Arts Degree: $ 24,300 annual fee
Postgraduate Tuition Fees
Business Degree: $ 34,002 annual fee
STEM Degree: $ 21,463 – 34,002 annual fee
Arts Degree: $ 16,000 – 26000 annual fee
M.A Arts & History: $9000
Queen's University MBA: $ 34,002
Queen's University Intakes and Deadlines
Intakes: January, September.
Application deadline:
30th April fall & 30th Sep for January
Queen's University Application Fees
This university Application Fee is $ 110
Queen's University Scholarship
Queen's University scholarships for international students
Principal's Scholarship
Total Value: $4,000
Recipients of these scholarships will be selected automatically. By applying for admission to Queen's all eligible applicants are automatically considered for the following admission scholarship