Birmingham City University is a university in Birmingham, England. Initially established as the Birmingham College of Art with roots dating back to 1843. It is one of the top public universities in Birmingham, United Kingdom. The institution is ranked #1001-1200 in QS World University Rankings 2023.Birmingham City University is ranked 501 in World University Rankings by Times Higher Education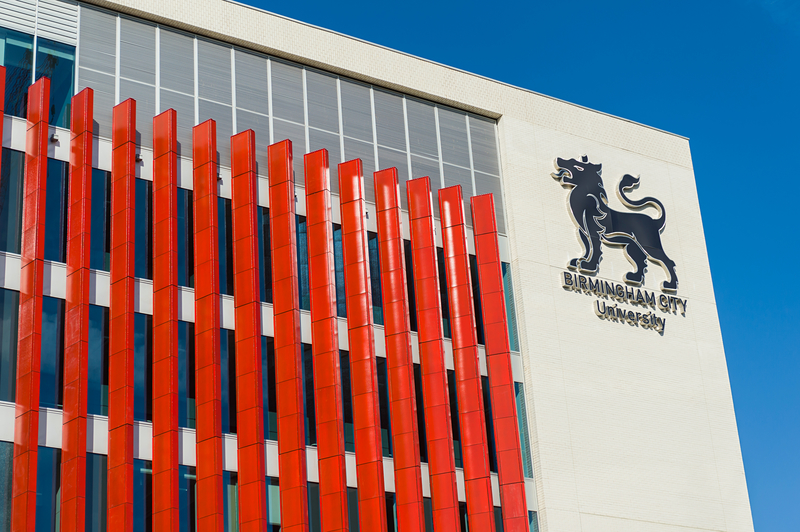 Entry Requirements:
Undergraduate:
HSSC / Intermediate (minimum 60% overall including Maths at 60%) plus one-year (new scheme) or two-year (old scheme) B.Com/BSc/BA with minimum 50% / Division II.
A level: ABB – BBC
International Baccalaureate: minimum of 28 points overall
Postgraduate:
Four years Bachelor's degree with an average of 55% or GPA 2.3 or Grade C+
Or
Three years Bachelor's degree plus one-year master's with an average of 55% or GPA 2.3 or
Grade C+.
English Language Requirements:
IELTS: 6.0 overall (with no band below 5.5)
TOEFL:88 overall with no less than 21 in Reading, 20 in Listening, 22 in Speaking, and 21 in Writing
For Postgraduate:
IELTS:7.0 (with no lower than 6.5 in all components) or equivalent.
TOEFL:95 overall with no less than 22 in any band
PTE:Academic 76 with no less than 67 in all four skills
Birmingham City University tuition fees
Arts Degree: 13,500
Architecture: 13,500
Business Degree: 13,500
Engineering Degree: 13,500
Automotive Engineering (Hons) 16,300
Education 13,500
Bachelor of Applied Theatre in Community & Education (Hons) 17,500
Primary Education Studies with Placement Year(Accelerated) (Hons): 15,000
Primary Education Studies(Accelerated) (Hons): 15,000
Health Sciences
Law 13,500
Nursing: 13,500
Physiotherapy: 13,500
Psychology: 13,500
Science Degree:13,500
Postgraduate:
Arts Degree:16,300
Architecture: 16,300
Arts & Education Practices with Professional Placement: 17,390
Business Degree: 16,300
Engineering Degree: 16,300
Civil Engineering with Professional Placement: 17,930
Education 16,300
Arts & Education Practices with Professional Placement: 17,930
Law 16,300
Science Degree: 16,300
Project management:16,300
Construction Project Management with Professional Placement: 17,930
Environmental Engineering:
M Business Analytics:
MBA: 17,930
Psychology: 16,300
MPH:16,300
Birmingham City University scholarships:
Undergraduate
For Postgraduate
Partial scholarship
All international students enrolling on a postgraduate course in September 2023 will be eligible for a partial scholarship of up to £2,000 discounted from your tuition fees. This is awarded based on your academic background, and your grade will need to be equivalent to a UK degree:
Award Value: £2,000 if a 1st class degree holder
£1,500 if a Second Class (Upper Division) or 2:1 degree holder
£1,000 if a Second Class (Lower Division) or 2:2 degree holder
£500 if a 3rd class degree holder
The following courses are exempted from this scholarship:
PhD
ACCA
MSc Accounting & Finance (Top-Up)
Conservatoire and BSA courses (Music and Theatre)
PGCE and PCET
Masters in Teaching and Learning/Educational Leadership (MTL/MEL)
Continuing Professional Development (CPD) courses in Health
Short courses that are less than one academic year
Part-time or distance learning
Study Abroad programs
Exchange programmes
Pre-sessional English
PGDL in Law
Please note that scholarships are only available to self-funding students and those studying full-time for at least one academic year.
Meet or Beat scholarship
Award worth: 1,000 GBP
Eligibility or criteria:
You are eligible for the £1,000 if you apply to BCU and secure results in the qualifications you are studying or already hold that either match or better ('meet or beat') our published entry requirements.
The £1,000 is paid directly into your bank account.
You are eligible if you are already holding level 3 qualifications at the point of application from prior to the relevant academic year – e.g. if you secured A Level, BTEC, Access, or IB qualifications in 2021- 2022 or earlier.
Apply date: Apply to Birmingham City University by 30 June 2022.
September 2023 intake
1st Instalment – December 2022
2nd Instalment – March 2023
3rd Final Instalment – May 2023