Common App Admission Process
The USA has the world's largest international student population, with more than 1 million students choosing the USA over other countries for their education to broaden their education. Nearly 5% of all students enrolled in higher-level education in the USA are international students, and this figure is increasing each year.
How to Apply in the USA
More than 40 years ago, a small group of colleges and universities got together to reimagine the college application process. One application, 15 institutes. What began as an experiment to simplify the admissions process has evolved into a global college access movement for international students. This service is known as a Common Application (common app).
What is the common app
Today, The Common Application (Common App) is a non-profit organization representing nearly 900 diverse institutions of higher education. Common App connects applicants and those who support them to many public and private colleges and universities across the USA.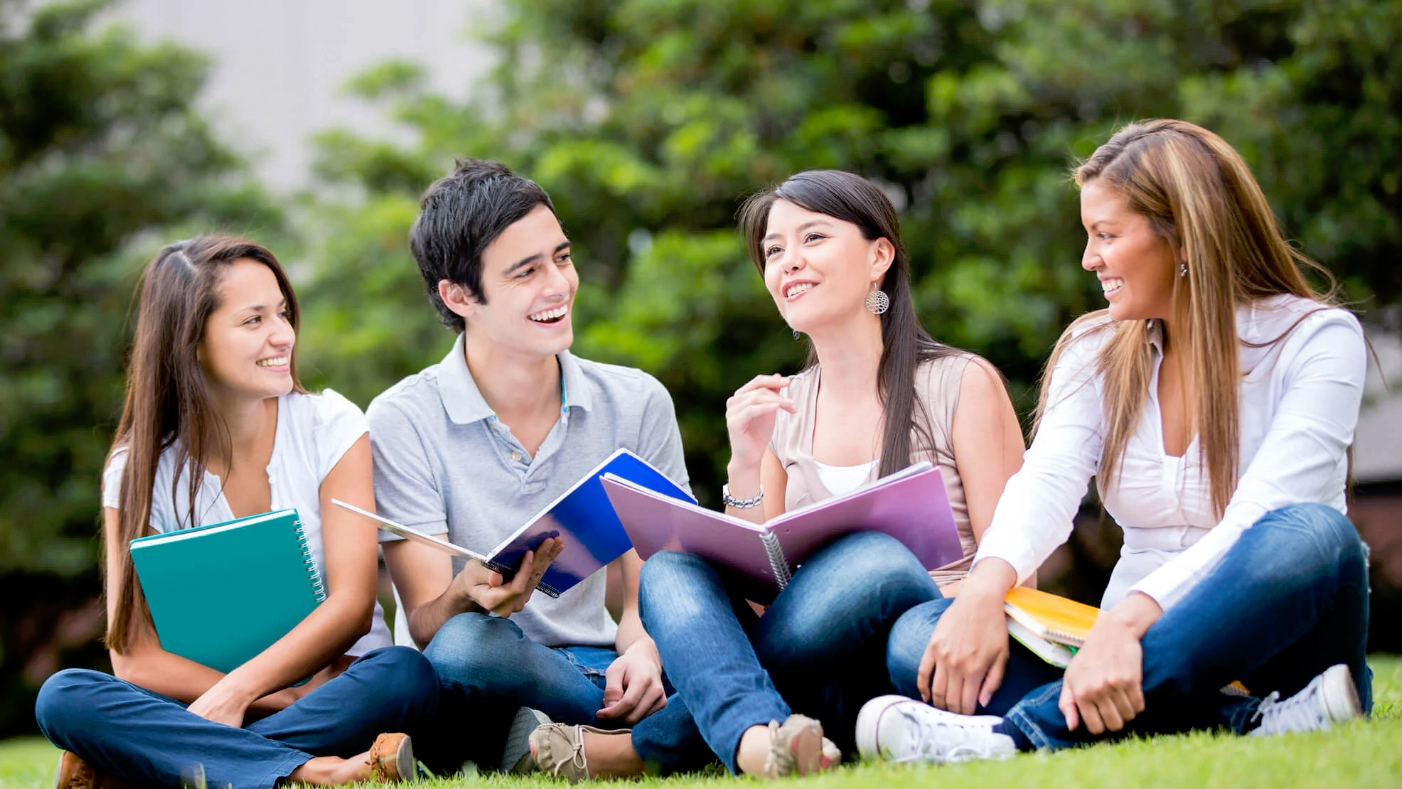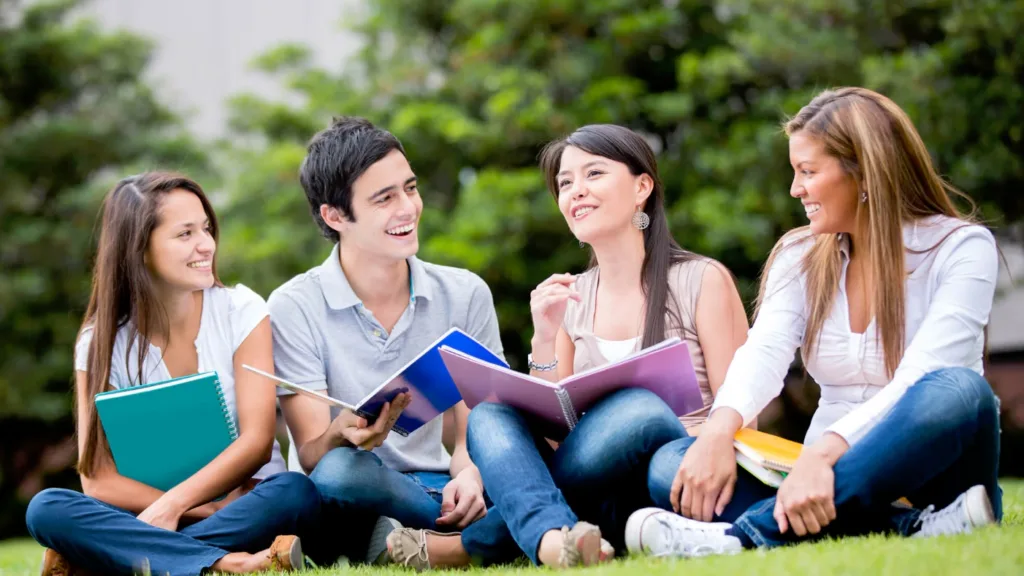 USA Application Process
1. Gather Documents
The first thing to do is gather the required academic documents. And information regarding the applications (Personal and academic).
A copy of the High School Transcript
First, fill out the online application form. It requires documents from your academia. In the Education section, you will enter your high school grades and current courses. Some colleges also need you to self-report your high school transcript.
Add Activities (work, and family)
In the activities section, you can share your interests and who you are outside of the classroom. You can share work, hobbies, clubs, and community engagement information. And don't forget, family responsibilities can be essential to share as well. This is the place to show colleges what makes you unique!
Test Scores and Dates (SATs, ACTs)
You may self-report scores for any standardized tests in the Testing section. Every college has different testing requirements. Some colleges will always need your test scores. Other colleges may be flexible or have a test-optional policy. Be sure to check the Testing policy of the colleges on your list.
Parent / Legal Guardian Information
Many colleges collect this information in the Family section for demographic purposes. They will ask for your parents' occupation, employment status, and education level. If applicable, they will also ask which college(s) they attended and how many degrees they have earned.
Academic Honors and Achievements
The Activities section isn't the only place to show your passion and where you excel! You will also have the chance to share any academic honors or achievements from high school.
After this step now, it's time to apply. Here you will need an account to launch your applications.
2. Create an Account for Common App
Get started by creating a first-year Common App account. It is easy and should only take a few minutes.
Follow the steps mentioned below.
Choose your registration type.
If you are applying to college for the first time, you'll select the "First Year Student" button.
Provide your login credentials.
Make sure you use an email address you check often. This is the email the Common App and colleges will use.
Provide the correct details as per your school and official documents. This will make sure colleges can match documents to the right person.
In the end, you will adjust your communication preferences and accept the Common App privacy policy.
Select "Create Account" to complete your account.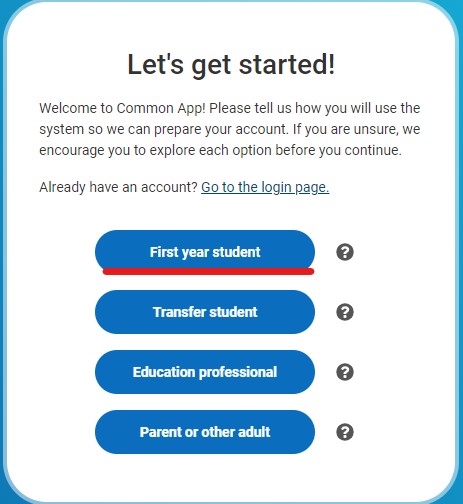 3. Add Colleges to the common app portal
Start building your My Colleges list; once you've created your account and explored the colleges that accept the Common App, you're ready to start adding colleges. If you have a school in mind, you can search by name. If you want to keep exploring, you can use the more filters button. Some filters include:
State or country
Distance from a zip code
Enrollment term
Application deadline
Application fees
Writing requirements
Standardized testing policy
Recommendation requirement
Adding to college is easy! You may add a college using the add button in the search results list.
Once you've added colleges, keep in mind you may only add up to 20 colleges. You may adjust your list of colleges at any time.
* While some colleges may charge an application fee, others have no fee to apply. And many will offer fee waivers under certain circumstances, including financial need and more.
Fees Waiver
A request to the college to remove the application fee. Using either the Common App fee waiver, which your counselor must confirm, or a college-specific fee waiver, you will not be required to pay the fees to submit your application.
4. Engage Supporters
Collaborate with counselors, teachers, advisors, and others. All colleges need things like official school forms. Many colleges will also ask for letters of recommendation. Counselors, teachers, and recommenders will submit these kinds of forms on your behalf.
Here are the types of recommenders you can invite in the Common App.
Counselors
Counselors share their perspectives using the context of the entire graduating class. They also submit the School Report and transcripts.
Parents and Teachers
Parents and teachers must only submit a form if they apply using a college's early decision deadline. They will fill out part of your early decision agreement.
Other Recommenders
Other recommenders are usually non-academic recommenders like coaches, employers, and peers. They give insight into your interests and activities outside of the classroom.
Advisors
Advisors do not submit any forms. They track and check in on your application progress.
Every college gets to choose its own recommendation requirements. You can find more details on each college's "College Information" page.
In general, each college has its own recommendation requirements.
For example:
One college may need two teacher recommendations. Some colleges may not want any teacher recommendations. Colleges can also determine what kinds of other recommenders they want. Some may allow for any recommender type, whereas others only allow an employer recommendation.
The next step is the most crucial section of your standard application process.
5. USA College Requirements
Keep track of each college's unique application requirements. It's important to stay organized as you work on your applications. Each college needs you to complete common questions and add a counselor. Beyond that their applications vary.
Each college can determine its unique requirements for:
Deadlines
Application Fees
Personal Essay
Courses & Grades
Test Policy
Portfolio
Writing Supplements
Recommendations
Here are some places where you can find each college's specific requirements:
Explore Colleges
Each college's Explore Colleges profile provides lots of information about the college. You can find details on application information, campus culture, scheduling visits, and more.
My colleges
In the My Colleges or College Search tab, you can learn more using a school's college information page. Here you can see requirements for testing, writing, deadlines, and more.
Requirements Grid
The requirements grid is a comprehensive PDF that lists all the colleges that use the Common App and their requirements. You can also find the grid within the application.
6. Plan Essays for American Universities
Organize and plan for your writing prompts. Sometimes writing essays can feel like the biggest part of your application. With a little bit of planning, organizing, and drafting, you can tackle this part.
7. Submit Your Application
Before submitting your application make sure to review your application for any mistakes.
Submission is a three-step process:
1) Reviewing your application.
2) Paying the application fee which is 65US$
3) Submitting your application.