Solent University is a public research university providing education in Southampton, England. It began operations in July 2005, yet it has a lengthy and complicated educational history. Solent has risen from 105th to 83rd in the Complete University Guide's Accounting & Finance Ranking for 2021. The Times University Guide 2023 ranks 114th, while the Guardian University Guide ranks 101st. Solent has an admittance rate of 70-80%.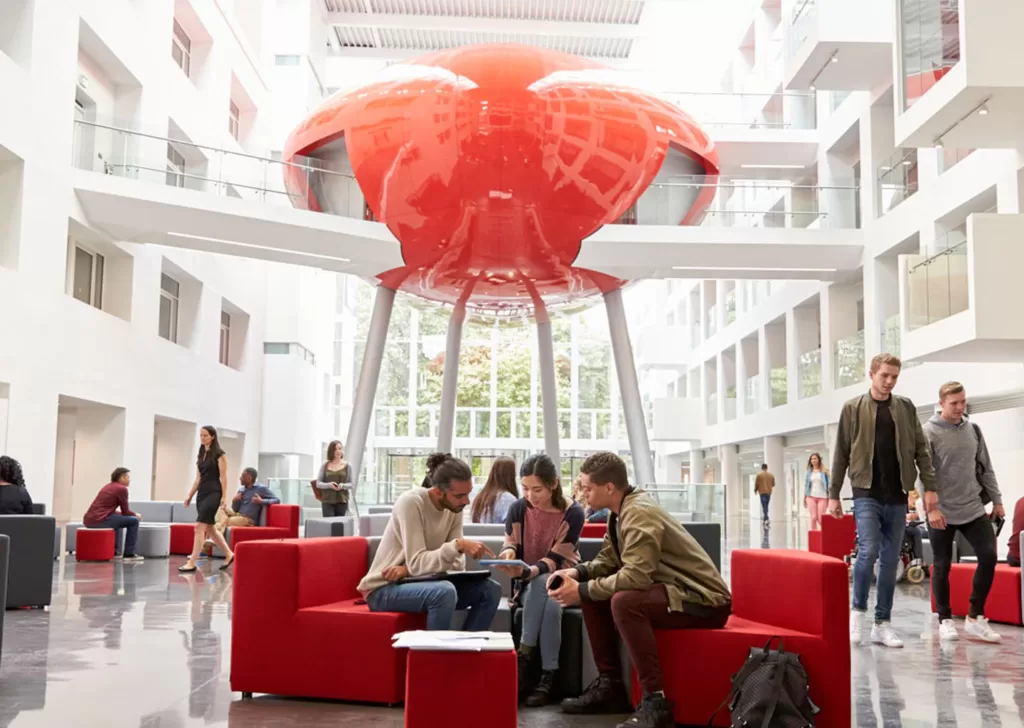 Entry Requirements
Equivalent to the British high school A-levels (Bachelor of Arts/Commerce – Pass). A portfolio is also required for most of our art and design courses.
International. Baccalaureate: Between 28 and 38 points
A-levels: AAB–BBB
Postgraduate
That is equal to the British Bachelor's degree.
English Language Requirements
IELTS: 6.0 with no area less than 5.5 in each band or equal
TOEFL: with a minimum score of 80.
Solent University tuition fee
Arts Degree: 14,250
Business Degree: 12,400-14,250
Engineering Degree: 12,400-14,250
Education: 14,250
Health Sciences: 14,250
Law: 14,250
Nursing: 14,250
Physiotherapy: 14,250
Psychology: 14,250
Science Degree: 12,400-14,250
Postgraduate
Business Degree: 14,550
Engineering Degree: 14,550
Education: 14,550
Law: 14,100
Science Degree: 14,550
Engineering Management: 14,550
Project management: 14,550
Renewable energy: 14,550
Environmental Science: 14,550
Data Science: 14,550
MBA: 16,100
Psychology: 14,550
Nursing: 14,550
Physiotherapy: 14,550
Public health: 14,550
Solent University Scholarship
International academic merit scholarship
The University is pleased to offer, as a tuition fee reduction, a limited number of international academic merit scholarships of between £1,000 and £2,000 for students from international and non-settled EU students who are studying a full-time degree level course (not at foundation level) and who exceed the entry criteria for their course.
To qualify, students must currently be studying an international qualification or be studying for an international foundation program in the UK with an 'unconditional firm' offer on a full-time course (previous qualifications are subject to three years).
Applicants must be self-funded and not sponsored by their government or employer.
The scholarship is awarded automatically (no application process) on a 'first-come, first-served basis as a tuition fee reduction.
Vice-Chancellor's scholarship
The University is pleased to offer a Vice-Chancellor's scholarship scheme to support students who have achieved academic excellence.
Award summary
Tuition fee reduction of £3,000 based on the total annual fee of the course.

To be eligible, students must:
Have applied to start a full-time undergraduate or postgraduate course at Solent University (main campus), applicable to the following intakes: September 2022, January 2023, or May 2023.
Not be progressing from a Solent University program.
Hold an unconditional offer that has been firmly accepted.
Be a self-funded full-fee student (not sponsored by their government or employer).
Academic Criteria
Successful students will meet pre-determined minimum entry requirements set for the Vice-Chancellor scholarship.
Sport scholarship
Scholarships are for athletes competing at national and international levels in various sports, including – but not exclusively – basketball, cricket, and football.
We offer the following sports scholarship bursaries:
Platinum: up to £5,000
Gold: up to £3,000
Silver: up to £1,000
Bronze: performance club offer (access to team support services)

In addition to the bursaries, they can also offer alternative tuition fee-based packages for international students depending on the level you compete at and your sporting history.