In Oxford, England, a coeducational research institution called the University of Oxford. It was founded in 1096, making it the second-oldest university in the entire globe and the oldest in the English-speaking world. The University of Oxford ranks as the fifth-best university in the world. It ranks No. 4 in QS World and No. 1 in Times Higher Education, respectively. The University of Oxford enjoys a stellar reputation worldwide for its research, teaching, and societal contributions. Universities accept 17.5% of applicants. Each year, the Nobel Prizes are presented in physics, chemistry, literature, peace, economics, physiology, or medicine.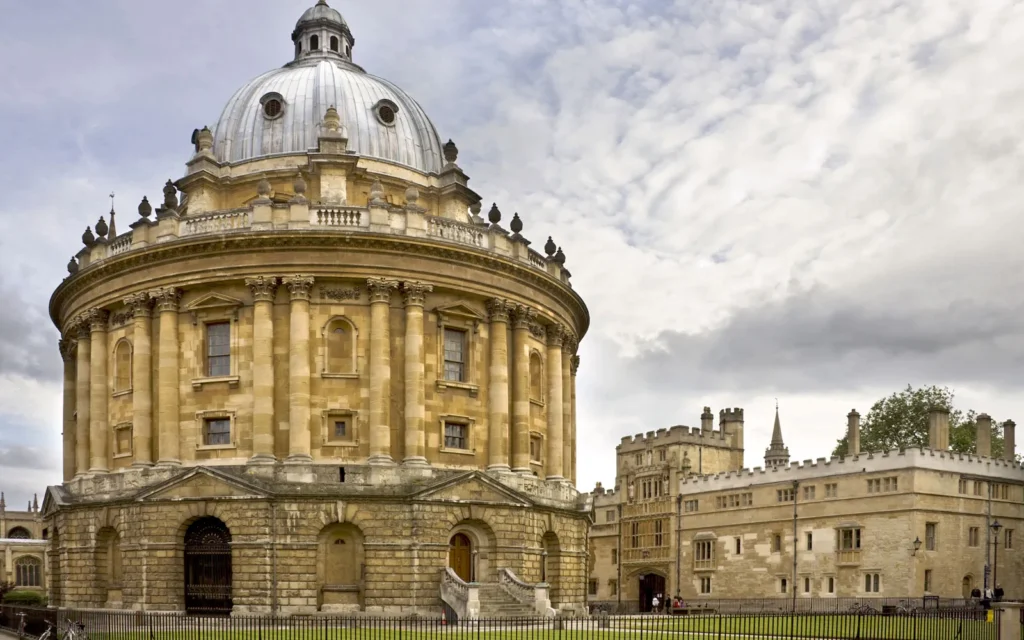 Entry Requirements:
Undergraduate:
Higher Secondary School Leaving Certificate (HSSC) not accepted
A-level: A*A*A— A*AA / AAA —AAB
Foundation Year

(Chemistry, Engineering, and Materials Science) AAB
(Humanities)BBB
(Law)BBB
(PPE) BBB


IB: 38 with 666 at HL
39 with 766 at HL
39 with 766 at HL for (medicine)
Postgraduate
strong upper second-class undergraduate degree with honors in the UK system, you will usually need one of the following qualifications:
a four-year bachelor's degree with an overall grade of First Division, 75%, or a GPA of 3.5 out of 4.0
a master's degree after a two- or three-year bachelor's degree with an overall grade of 'Pass' or 65%; or
a Doctor of Medicine/Veterinary Medicine/Pharmacy; requires a 'first-class undergraduate degree with honors' in the UK system, you will need a bachelor's degree from a well-ranked institution with an overall grade of 'A+' or 80%, or a GPA of 3.8 out of 4.0.
Admissions test students who want to apply for mathematics
Test: MAT
Test date: 2 November 2022
Registration deadline: 15 October 2022
For medicine and biomedical:
Test: BMAT
Test date: 2 November 2022
Registration deadline: 1 October 2022
Late registration deadline (with fee): 15 October 2022


English Language Requirements: Undergraduate / Postgraduate
IELTS: 7.0 Minimum 6.5 per component (standard)
TOEFL IBT: Overall 100 with minimum Listening: 22, Reading: 24, Speaking: 25, Writing: 24
PTE: 66 Minimum 56 in Speaking, Listening, Reading, and Writing.
Some other courses require a higher level.
IELTS: 7.5 Minimum 7.0 per component
TOEFL ibt: 110 Minimum component scores:
Listening: 22, Reading: 24, Speaking: 25, Writing: 24
PTE: 76 Minimum 66 in Speaking, Listening, Reading, and Writing. We do not require particular scores in the Enabling Skills
University of Oxford tuition fee per year
Engineering Degree: 39,010
Science Degree: 39,010
Arts Degree: 32,480—39,010
Biomedical Science: 30,640
Human Science: 30,640
Classics Studies: 32,480
Archaeology & Anthropology: 29,500
History & Economics: 29,500
LAW: 29,500
Psychology: 31,030
Bachelor of Mathematics: 32,480
Postgraduate:
Business Degree: MBA 65,520
Engineering Degree: 28,560
Science Degree: 29,160 —28,560
Financial Economics: 48,670
Global Health Science & Epidemiology: 36,370
Integrated Immunology: 42,120
Arts Degree: 26,940—25,560
Master of Science in Latin American Studies: 24,450
Master of Science in Refugee & Forced Migration Studies: 30,330
LAW: 42,120
Environmental Science: 26,940
Data Science: 28,560
Psychology: 28,560
University of Oxford Scholarship: Undergraduate/ Postgraduate
Commonwealth Shared Scholarships
Value: The scholarship covers course fees in their entirety and provides a grant for living costs for full-time students of at least £13,600
Commonwealth Shared Scholarships for 2022, which are available for applicants who are nationals of (or have been granted refugee status by) and are ordinarily resident in one of the following developing Commonwealth countries
Bangladesh, Cameroon, Eswatini, Ghana, India, Kenya, Kiribati, Lesotho, Malawi, Mozambique, Nigeria, Pakistan, Papua New Guinea, Rwanda, Samoa, Sierra Leone, Solomon Islands, Sri Lanka, Tanzania, The Gambia, Tuvalu, Uganda, Vanuatu, or Zambia.
For 2022 entry candidates must be applying to one of the following courses:
MSt Diplomatic Studies
MSc Global Health Science and Epidemiology
Master of Public Policy (MPP)
MSc Economics for Development
MSc Water Science, Policy and Management
MSc Environmental Change and Management
MSc Biodiversity, Conservation, and Management
Scholar Eligibility
To apply for these scholarships, you must:
Be a citizen of or have been granted refugee status by an eligible Commonwealth country, or be a British Protected Person
Be permanently resident in an eligible Commonwealth country
Not have studied or worked for one (academic) year or more in a high-income country
To be considered for this scholarship, you must:
Complete the online scholarship application form issued by the Commonwealth Scholarship.
Have submitted your application for graduate study by the relevant deadline for your course.
Candidates who have not completed both of the above, will not be considered.
Selection is expected to take place between April and June 2022.
Oxford Centre for Islamic Studies (OCIS) Scholarship
The Oxford Centre for Islamic Studies is an institution for the advanced study of Islam and the Muslim world. Awards are made for the full duration of your fee liability for the agreed course.
Value: The scholarship will cover 100% of course fees and a grant for living costs (at least £15,609)
Deadline: January or February
Scholarship outcomes
Successful candidates will be contacted by June 2022
You must be applying to start a new full-time masters or DPhil course at Oxford.
You must be either:

ordinarily resident in the United Kingdom and from a Muslim community (with preference given to those from a financially disadvantaged household

Eligible countries:

Afghanistan, Albania, Algeria, Azerbaijan, Bahrain, Bangladesh, Benin, Brunei Darussalam, Burkina Faso, Cameroon, Chad, Comoros, Cote d'Ivoire, Djibouti, Egypt, Gabon, Gambia, Guinea, Guyana, India, Indonesia, Iran, Iraq, Jordan, Kazakhstan, Kuwait, Kyrgyzstan, Lebanon, Libya, Malaysia, Maldives, Mali, Mauritania, Morocco, Mozambique, Niger, Nigeria, Oman, Pakistan, Palestine, Qatar, Saudi Arabia, Senegal, Sierra Leone, Somalia, Sudan, Suriname, Syrian Arab Republic, Tajikistan, Togo, Tunisia, Turkey, Turkmenistan, Uganda, United Arab Emirates, Uzbekistan, Yemen.


How to apply

tick the box for the Oxford Centre for Islamic Studies Scholarship in the University of Oxford Scholarships section of the University's graduate application form
Google Location: