The University of the West of Scotland is a public university with 4 campuses in southwestern Scotland. The university was established in 1897. The University of the West of Scotland is ranked 501 in the World University Rankings by Times Higher Education. The University ranks #501-600th in World University Rankings 2022. With a competitive acceptance rate of 27.33%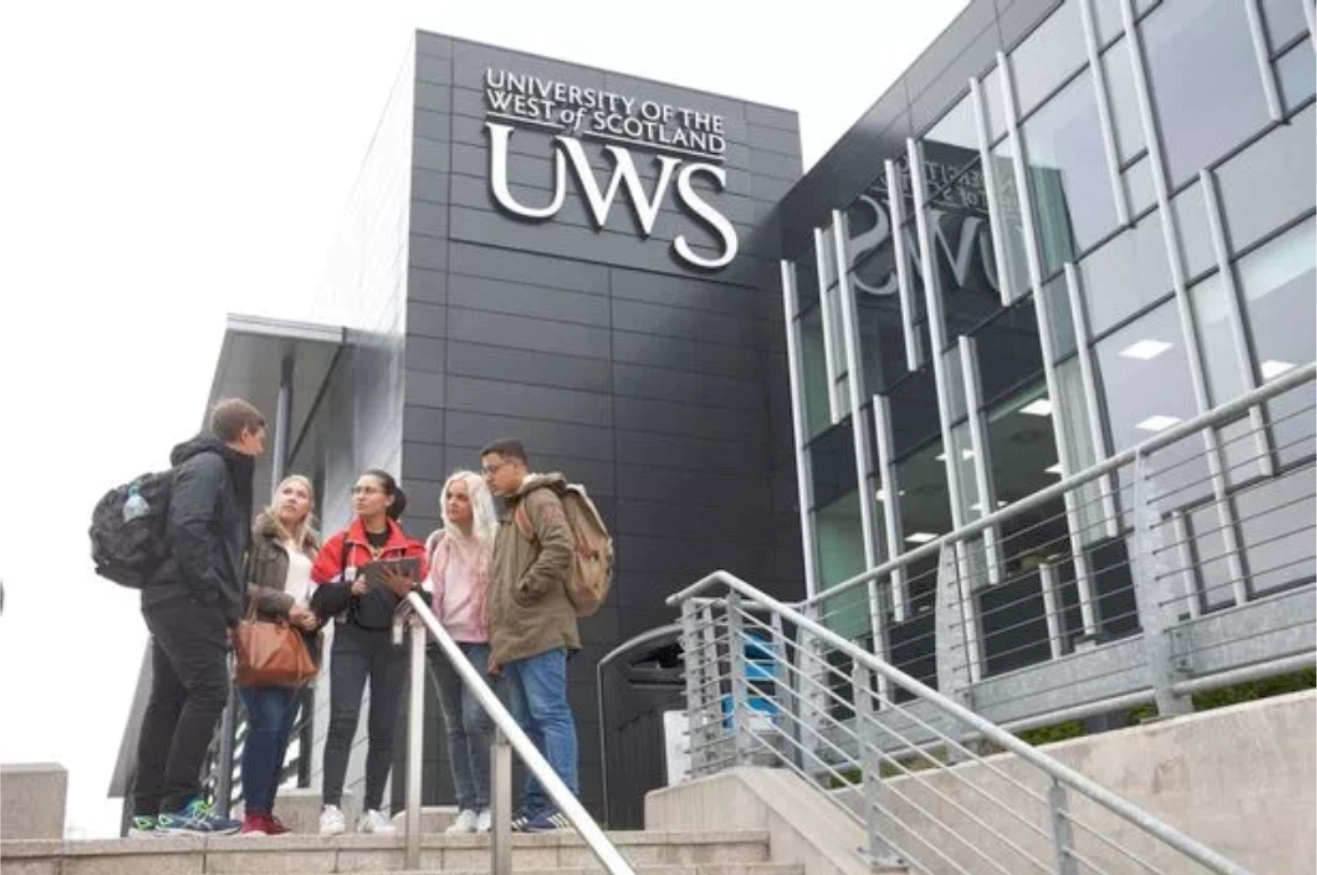 Entry Requirements
Applicants must have at least 80% in their Higher Secondary Certificate/Intermediate plus recognized foundation program.
International Baccalaureate: overall minimum grade of 24
A-levels: ABB—BBC
Postgraduate
Applicants must hold a 4-year Bachelor's degree at least at 60% – comparable to British Bachelor Degree Ordinary
English Language Requirements
IELTS: 6.0 with no skill below 5.5
TOEFL: 78; no sub-test less than: Reading: 17; Listening: 17; Speaking: 17; Writing: 17
Postgraduate
IELTS: overall score of 6.5 with no sub-test less than 6.0
TOEFL: 78; no sub-test less than: Reading: 17; Listening: 17; Speaking: 17; Writing: 17
University of the West of Scotland fees
Arts Degree: 17,250
Business Degree: 14,500
Engineering Degree: 17,250
Education 14,500
Health Sciences 14,500-17,250
Law 14,500
Nursing: 17,250
Psychology: 14,500
Science Degree: 14,500
Postgraduate
Arts Degree: 14,500
Business Degree: 14,500
Engineering Degree: 17,250
Education 14,500
Health Sciences 17,250
Science Degree: 14,500-20,500
Project management: 14,500
Data Science: 17,250
MBA: 14,500
Psychology: 14,500
Nursing: 17,250
Public health: 13,325
University of the West of Scotland scholarships
UWS Global Scholarships for Undergraduate and Postgraduate Students
Value: The UWS Global Scholarship is worth either 1500 for every year of your undergraduate studies or a single one-off 1500 for taught postgraduate studies.
Please note the following
The scholarship can only be awarded to unconditional offer holders and prior to a CAS being issued
If you meet the eligibility criteria for the scholarship, it will be deducted automatically from your tuition fees before your CAS is issued
The scholarship is only available to students applying to study at one of our Scottish campuses
No scholarships will be awarded retrospectively
Conditions
The UWS Global Scholarship is open to unconditional offer holders, who are self-funding, full-time, full fee-paying, international (including EU/EEA) students who have applied to study one of our bachelor degrees at one of our four Scottish Campuses.
* Exceptions: The scholarship does not apply to applicants for the following courses: DBA and all Research (MRes, MPhil, PhD) programmes and the Graduate Diploma (GradDip) in Business & Management).
UWS Postgraduate Tuition Fee Offer
Amount: 10% discount on tuition fees
Conditions: Applies to all self-funding students (including those with SAAS loan). You must have completed one year of study at UWS undergraduate level and have applied to study at one of our Scottish campuses. The offer applies to full-time Masters courses only; it does not apply to PGDE, MEng, Postgraduate Certificate or Postgraduate Diploma courses.
Application: Awarded automatically.
UWS Sport Scholarship
There are three different levels of scholarship on offer: Gold, Silver & Bronze.
Eligibility
Gold: National or International Standard
Silver: National Standard
Bronze: Regional Standard but who can demonstrate the potential for success at national level
Undergraduate and postgraduate students are eligible for this scholarship. You must be studying either full-time or part-time at one of our Scottish campuses.
All the UWS Sport Scholarships will provide financial scholarships as well as support for student athletes to access the University's sports facilities, educational workshops, and sports science/medicine support.