Yale University
Since its founding in 1701, Yale has been dedicated to expanding and sharing knowledge, inspiring innovation, and preserving cultural and scientific information for future generations. Yale is a member of IVY League universities As well.
Yale's reach is both local and international. It partners with its hometown of New Haven, Connecticut, to strengthen the city's community and economy. And it engages with people and institutions across the globe to promote cultural understanding, improve the human condition, delve more deeply into the secrets of the universe, and train the next generation of world leaders.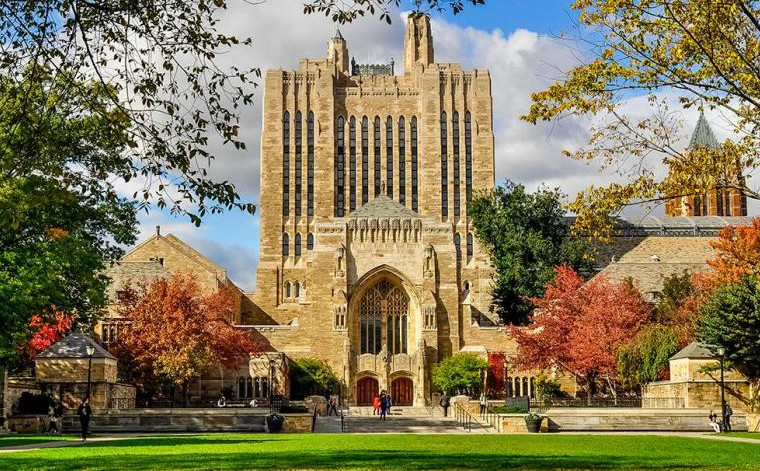 Yale University Admissions
Yale admissions are listed below.
Common Application
Coalition Application
The QuestBridge National College Match Application
Application Deadline: 2nd January.
Yale University Application Fee: $80
Yale University Acceptance Rate: 7%
Admission Interview: Recommended
Required Standardized Tests: Either SAT or ACT
SAT 1470 / ACT Composite (32-35)
SAT/ACT Score Deadline: March 1st
Scores from either the GRE or the GMAT
GRE 317/ GMAT 729/ GRE quantitative 157/ GRE verbal 160.
Portfolio (for the M.Arch. programs only)
Research proposal (for the M.E.D. program only)
School of Music requires Prescreening Recordings School of Art requires a one-page statement that addresses your interests, current work direction, and brief life history.
IELTS Requirements
Yale university IELTS and TOEFL requirements for international students are listed below.
TOFEL IBT/ PBT: IBT-100, PBT-600, CBT-250, PTE: 70 or higher
IELTS: An overall score of 7 is mandatory.
Average Academic Score: Percentage – 90%, GPA – 3.8 out of 4.0
IB: 40
Requirements may vary for each program. Please visit the program page for specific requirements.
Popular Courses at Yale University
Social Sciences
Biology/Biological Sciences
Mathematics
Computer and Information Sciences
History
Physical Sciences
Engineering
Psychology
Visual and Performing Arts, General
University Tuition Fees
Yale University Tuition Fees for international students are as follows
Tuition Fee: 59,950$ per year
School of Architecture 56,348
Yale Divinity School 28,810
Drama $34,800
Public Health $50,261
Nursing $47,114
Arts $47,700
University Scholarship Program
Yale University Scholarships for international students are:
Yale Scholarship can vary from a few hundred dollars to over $70,000 annually; the average Yale need-based scholarship is over $50,000.
https://finaid.yale.edu/costs-affordability/types-aid/scholarships-and-grants
International student contact
Keith Light
Director of International Admissions
(203) 432-9316
[email protected]