Harvard is at the frontier of academic and intellectual discovery. Those who venture here—to learn, research, teach, work, and grow—join nearly four centuries of students and scholars in pursuing truth, knowledge, and a better world.
Founded in 1636, Harvard University is the oldest institution of higher education in the U.S and one of the most selective in the Ivy League. The university is at No. 2 in the National Universities ranking. As a private research institution, Harvard has more than 100 research centers. Harvard includes 13 schools and institutes, including the top-ranked U.S. medical school and highly ranked business, graduate education, engineering, and law schools. Harvard's extensive library system houses the oldest national and private collections worldwide.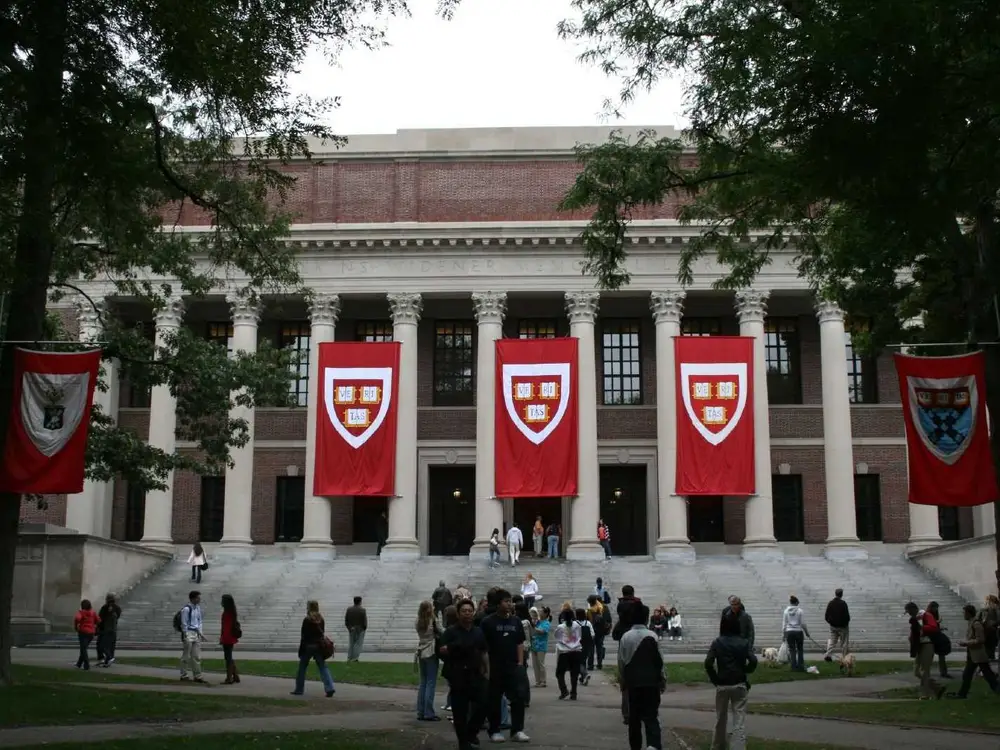 Harvard University Admissions Requirements
Common application or Universal College Application
APPLICATION DEADLINE: Jan. 1
Harvard University Application Fee: $75 / $105 application fee P.G
Harvard University Acceptance Rate is 5%
Admission interview: Recommended
Required standardized tests: Either SAT or ACT
SAT 1470 / ACT Composite (32-35)
SAT/ACT scores must be received by: March 6
Scores from either the GRE or the GMAT exam 328 / GMAT 730 / GRE Quantitative 164/ GRE Verbal 164
Harvard Law School requires the LSAT scores.
Harvard University English Language Requirements
TOFEL IBT/ PBT: both accept able or 100-104 or higher with 26 in each
Harvard University IELTS requirement is overall 7.0 bands

Average Academic Score
Percentage: 90%
GPA 3.8
IB: 40
Requirements may vary for each program. Please visit the program page for specific requirements.

Ten most popular majors at Harvard University
Social Sciences
Biology/Biological Sciences
Mathematics
Computer and Information Sciences
History
Physical Sciences
Engineering
Psychology
English Language and Literature
Visual and Performing Arts, General
Harvard University Fees
Harvard University tuition fees for international students are $55,587 per year

Harvard Law School LLM: 70,430$ per year
Harvard Business School MBA: 73,440$ per year
Harvard Business Analytics program: 51,500$ per year
Harvard Medical School: 67,610$ per year
Harvard Medical School Biomedical informatics: 56,018$ per year
Harvard School of Dental Medicine: 66,284$ per year
Harvard Graduate School of Education: $54,768 per year
Harvard Graduate School of Arts & Science: 50,928$ per year
Harvard Graduate School of Design: 53,420$ per year
Master in Public Policy
Master in Public Administration
Master in Public Administration in International Development $55,982
Master of Science 50,496
Master of Public health 58,816$ per year
Master of Health care Management 43,500$ per year
Harvard University Scholarships / Harvard University Financial Aid
55% of students receive need-based Harvard scholarships. 1 in 5 pays nothing to attend.
Your financial aid package comprises a combination of scholarship (grant) funds, student employment, and any potential outside awards.
Scholarship & Grants
Outside Awards
Student Employment
https://college.harvard.edu/financial-aid/how-aid-works/types-aid

International Graduate Students
https://scholarships.harvard.edu/international-students
International student contact
Judy Partington
International Admissions Administrator
(617) 495-1551
[email protected]