In Dubai, United Arab Emirates, Jumeira University is a private institution of higher learning that provides approved programs across a variety of subject areas. Established in 2011. Jumeira University was placed 13022nd worldwide and 59th in the United Arab Emirates in the World 2022 rankings. According to the QS World University Rankings 2023, it is rated 801–1000. The economic and social development of the United Arab Emirates is significantly influenced by Jumeira University. It has a 37% acceptance rate.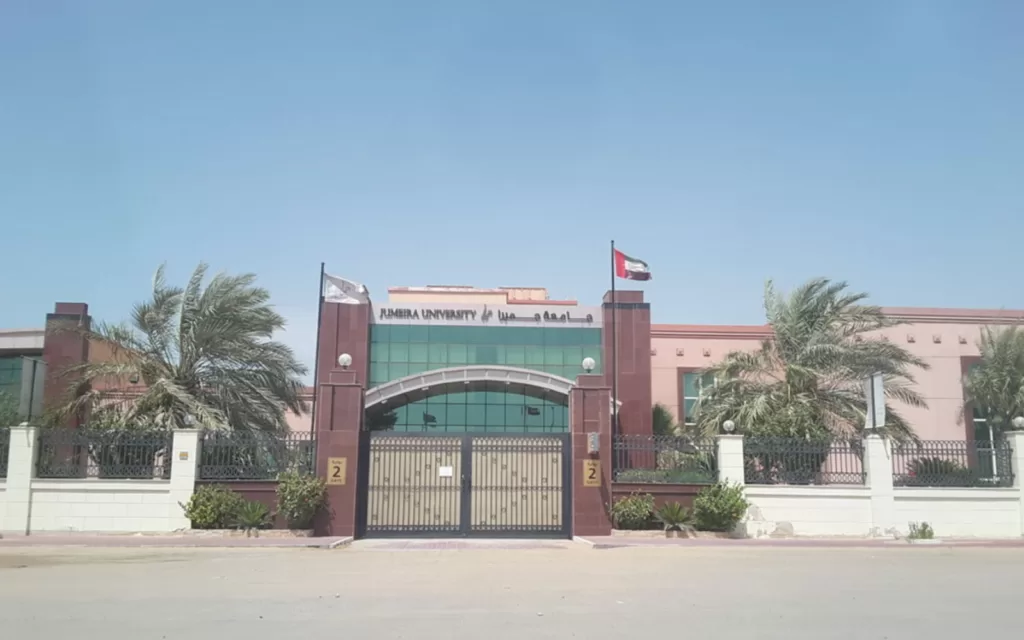 Entry Requirements
A minimum of 70% on the 12th grade in the UAE secondary school certificate (General and Advance Track) or its equivalent (for international students)
International baccalaureate: minimum of 30 points
A-levels: AAB—BBB
Postgraduate
Must have earned his/ her bachelor's degree from an accredited university recognized by the UAE Ministry of Education with a minimum cumulative Grade Point Average (GPA) of 2.5 on a 4.0 scale or equivalent in the undergraduate work and in a major similar to that of the master program.
English Language Requirements
TOEFL: 500
IELTS: 5 Some programs require 6.0
EmSAT: 1100
Business Administration:TOEFL ITP 530 or IELTS 5.5 or Equivalent or EmSAT 1250
Postgraduate
TOEFL: 450
IELTS: 4.5
EmSAT: 950
Jumeira University fees
Bachelor of Business Administration:
in E-Management
Event Management
Islamic Banking & Finance
Retail Management: 45,000 AED
Bachelor of Early Childhood Education: 45,000 AED
Bachelor of English Language: 45,000 AED
Bachelor of Environmental Health: 45,000 AED
Bachelor of Healthcare Management: 45,000 AED
Postgraduate
Fiqh and Its Fundamentals: AED 2,900/Credit Hours
AED 3,500/Thesis Extension Fees
Living cost
Cost of living at Jumeira University Dubai. 345 – 670 (596 AED)/ month.
Accommodation. 650 (19 AED)/ month
1162 AED EURO/ month food
Application fee
Undergraduate Enrollment Fees: 1,500, One-Time Fee.
Postgraduate Application Fees: 500, One-Time Fee
Intakes: Spring Semester 2023 Summer 1 Term – 2023 · Summer 2 Term – 2023.
Jumeira University Scholarships
Family Scholarship
The Jumeira University Family Scholarship covers 10% of the tuition for the first academic year of a student whose sibling is enrolled at the university.
Eligibility criteria
No nationality or age requirements
Recipients of the scholarship must fulfill the program completion plan
Must follow the Academic Program Roadmap (ARM) issued by the Registrar's Office
Must meet the requirements of the program completion plan
Must complete the degree at the university without postponing or halting any semester until graduation
Must not change major after the initial registration of the program
The students must register in the same semester
Deadlines for application: Fall Semester: 15th of August
Spring Semester: 15th of January
Achievement Scholarship
Jumeira University offers the Academic Achievement Scholarship to the university's full-time students based on annual academic performance; whereby the university covers up to 15% of the tuition for returning students in the three following categories:
15% of fees for a GPA of 3.9 and above
10% of fees for a GPA of 3.7 and above
5% of fees for a GPA of 3.5 and above
Eligibility criteria
Students must maintain a good academic standing with a GPA of 3.5 or higher
Must meet the English language proficiency requirements
Must be a full-time student with 15 credit hours registered each semester
Must follow the Academic Program Roadmap (ARM) issued by the Registrar's Office
Must meet the requirements of the program completion plan
Must complete the degree at the university without postponing or halting any semester until graduation
Must not change major after the initial registration of the program
Scholarship will be given as credit after the successful completion of each semester
Deadlines for application: Fall Semester: 15th of August
Spring Semester: 15th of January