Trinity Western University is a private institution of higher learning that upholds Christianity and has campuses in Richmond and Langley, British Columbia. The university started operating in 1962. 203rd overall and 16th in the QS World University Subject Ranking, according to the QS World University Rankings 2021. Trinity Western University is the 73rd-best university in Canada in our meta-ranking of 130 universities. However, Trinity Western University came 61st in Canada and 2495th overall in the 2022 rankings of all universities worldwide. The approval rate of 58%.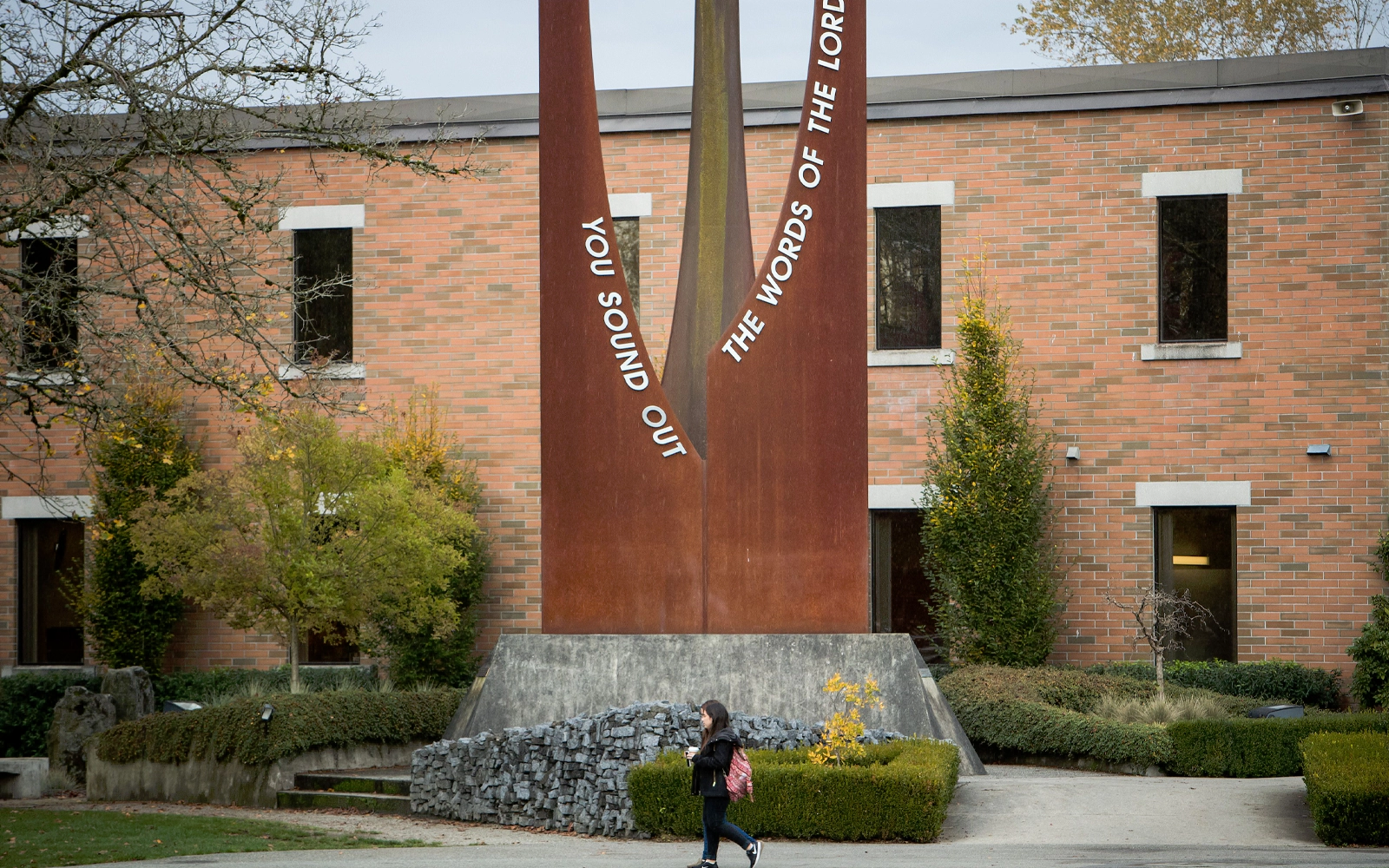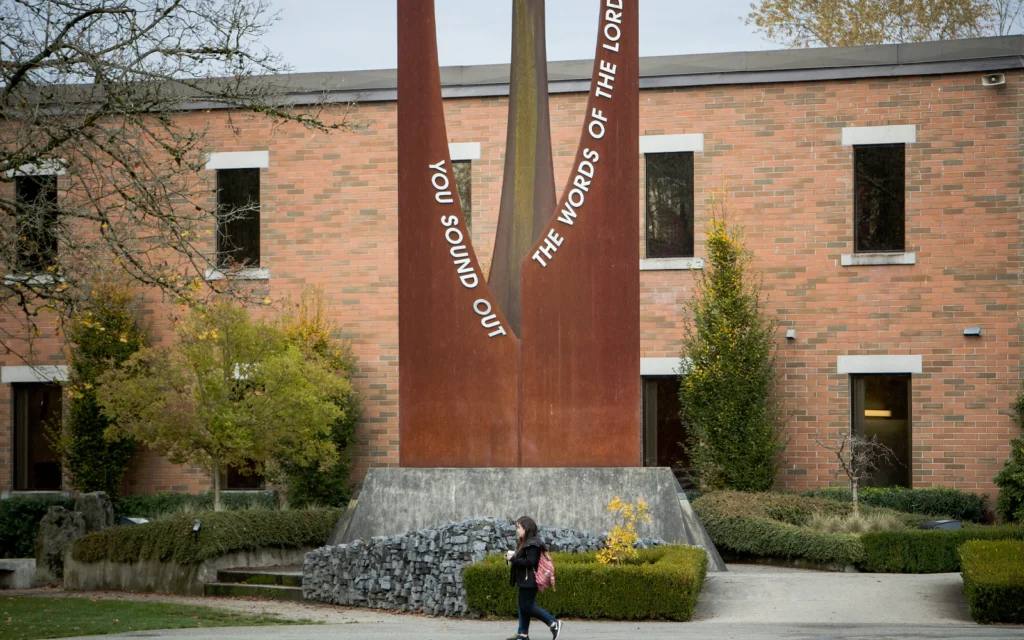 Trinity Western University Undergraduate programs
Entry Requirements:
Higher School Certificate with an average of 70%
International Baccalaureate: A minimum total grade of 28 (including the Extended Essay and TOK)
A-levels: AAB—ABB
Postgraduate:
Four-year undergraduate degree completed with a minimum GPA of 3.0 in the final two years of the degree
Three to five years of work experience preferred (may include volunteering and coaching).
English Language Requirements:
Undergraduate:
IELTS: Overall score: 6.5 with 6.0 on Writing Band
TOEFL: Overall Score: 88 with a minimum score of 21 in each of the four areas
PTE: 58+ with a minimum score of 50 on the Writing band
Postgraduate
IELTS: 7.5+ on all bands (MBA, MA Lead & MA Ling: 7.0+)
TOEFL: 105+ (MBA, MA Lead & MA Ling: 100+)
PTE: 73+ (MBA & MA Lead: 65 +)
Trinity Western University Fees
Undergraduate
Arts Degree: 22,260
Business Degree: 22,260
Engineering Degree: 22,260
Education 22,260
Health Sciences 22,260
Nursing: 22,260
Physiotherapy: 22,260
Psychology: 22,260
Science Degree: 22,260
Postgraduate:
Graduate Certificate in Biblical Studies & Christian Thought: 10,575
Master of Biblical Studies & Christian Thought: 10,200
Master of Leadership (Health): 15,069
Leadership Business Stream in Mandarin: 14,000
Linguistics: 9,630
Tesol: 14,400
Education 18,020
Psychology: 21,420


Application Fees:
All international students (from outside Canada and the US) are required to pay a non-refundable $150 application fee.
If you choose to fill out a paper application there is an additional $40 processing fee (so the total fee for applying will be $190).
Application: Complete the TLC application.
http://www.twu-tlc.ca/application/
Intakes:
We have three start dates each year: January, April, and September.
February 15. Students will be admitted for the fall (September to December) and spring (January to April) semesters in late February.
NOTE: A "top-up" application will be available for the spring semester. That deadline is October 15 of the semester prior to that spring semester.
Living cost: per semester
Meal plan (Gold level – 14 meals per week) $2,454
Books and supplies: $750
Housing (standard dorm room): $2,200
Trinity Western University Scholarships:
Trinity Western Founder's Scholarship
One-Time Award: $5,000
This scholarship is in honor of the founders of Trinity Western University. The Founder's Scholarship recognizes up to ten outstanding students who exemplify the mission of TWU through academic excellence.
Eligibility
Applicants must be entering a traditional undergraduate program directly out of high school as full-time students.
Applicants must demonstrate strong academic ability. Students should have a minimum TWU admissions average of 85%.
Apply
http://www.twu.ca/financial-aid/apply-financial-aid must be received by April 1. 
Musical Arts Scholarship – Up to $3,000 Per Year
Limited scholarships are available to incoming new and transfer students who demonstrate outstanding talent in vocal, instrumental, or piano performance. Recipients will be selected by the faculty from the Department of Music
Eligibility
Students must be pursuing a Bachelor of Arts in Music. For renewal, students must maintain a minimum 3.0 GPA and participate in private lessons with a principal instrument and a large ensemble (for singers, one of the choirs; for most instrumentalists, the concert band; for string players the orchestra) in each semester. 
Apply
Application and audition materials must be received by March 15.
http://www.twu.ca/financial-aid/apply-financial-aid
Athletic Scholarship (Amount Varies)
TWU offers athletic financial awards to student-athletes who are on the competition roster of a TWU Spartan's varsity team.
Note: Incoming students who are entering TWU from high school must attain an 80% average on the courses used to determine admission to be eligible for an athletic scholarship. If the academic requirement is not met, the athletic scholarship will be put on hold until the student has completed a minimum of 18 credits at TWU with a minimum 2.0 GPA.
Undergraduate Students
Fall 2023 – Spring 2023 Academic Year
The application for Financial Aid & Awards will be available on January 15 for the academic year beginning in September 2023 and ending in April 2024.
Students must enroll in full-time studies with a minimum 80% course load.


The following programs are not eligible for Financial Aid & Awards:
Degree Completion programs (Leadership, Psychology and Social Sciences)
U1 and other international pathway programs
Qualifying or Casual Studies
English Language Training programs