University of Huddersfield
University of Huddersfield
The University of Huddersfield is an affordable public research university in the UK. It has been a university since 1992 but has its origins in a series of institutions dating back to the 19th century. I
The University of Huddersfield is a public research university located in Huddersfield, West Yorkshire, England. It has made teaching a particular focus of its activities.
The University of Huddersfield is a growing center of research and excellence and we always push the boundaries of knowledge.
The University of Huddersfield achieved a Gold Teaching Excellence and Student Outcomes Framework (TEF) award in June 2017. This award expired in June 2021 and the scheme is currently being revised. We look forward to being reassessed when the awards are re-opened in 2023.
Our academic staff is continually rated as providing high-quality teaching in an exciting and stimulating environment. In fact, Huddersfield is the joint first in England for professionally qualified teaching staff (HESA 2021).
We've world-leading applied research groups in biomedical sciences, engineering and physical sciences, social sciences, and arts and humanities.
The University of Huddersfield became the Times Higher Education University of the Year in November 2013. Judges highlighted the University's outstanding record for student satisfaction and employability with the University placed in the top ten in the country in both categories. We asked our staff and students why they thought the University of Huddersfield won the University of the Year award.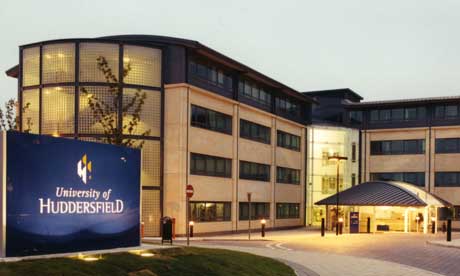 Tuition Fee
The University of Huddersfield Fee structure is listed below.
| | |
| --- | --- |
| International Foundation Year | £12,500 |
| Full-time Undergraduate | £14500-15500 |
| Nursing – fee includes NHS placement | £17,400 |
| Allied Health Professions (Midwifery, Physiotherapy, Podiatry, Occupational Therapy, Operating Department Practice) – fee includes NHS placement | £16,900 |
| Work Placement Year | £1,500 |
| Full-time Postgraduate courses | £14500 to 15500 |
| MBA | £14,900 |
Entry Requirements
The University of Huddersfield entry requirements for foundation, bachelor's, and master's are given below.
Foundation Program
For the foundation in the University of Huddersfield, the requirement varies as per the educational system from which they are coming.
O Levels and High School
For Cambridge educational system, students must have 5-passes in O levels
Board students need successful completion of a High Secondary Certificate (Matriculation) with an average of 55% is the minimum requirement.
For Undergraduates
For A-Levels students, the requirement for the foundation is at least two subjects at Advanced Level (32 UCS POINT).
Students must successfully complete higher Secondary or college with at least 50%.
For Postgraduates
The entry requirement for the master's in the University of Huddersfield is successful completion of a 4-year bachelor's degree with a minimum of 55%.
For the students who have (2:2) degree, like 2-year bachelor's and 2-year of masters: 2-years of a bachelor's degree at 55% and 2-years of master's degree at 60%.
Admission Intakes
The University offers two main Intakes: September and January. September is a major intake in which all programs are offered.
IELTS Requirements
The University has a 5.5 overall and 5 in each module for the bachelor's degree. For masters' the requirement is 6.0 overall and 5.5 in every module.
For those students who don't want to or don't have time to prepare for IELTS, they can also opt for the university's internal English test as a substitute for IELTS.
Scholarships
The University will award scholarships of up to £2,000 per year for every year of your course to international applicants.
Eligible programs – BA, BSc, Beng, MA, MSc, MBA.
Living Cost in Huddersfield, UK
£1,334 per month (for up to 9 months) for courses in London.
£1,023 per month (for up to 9 months) for courses outside London. Every other city in the UK.