Study in Canada
The main campuses of the University of New Brunswick, a public university, are located in the New Brunswick state cities of Fredericton and Saint John. It is the first university in Canada to provide English-language instruction. It first appeared in 1785. The University of New Brunswick is ranked #948 on the list of the world's best universities. Rankings for the University of New Brunswick, sixth in Canada in 2021, place it between 701 and 750 in the QS World University Rankings for 2023. The University of New Brunswick accepts 79 percent of applications.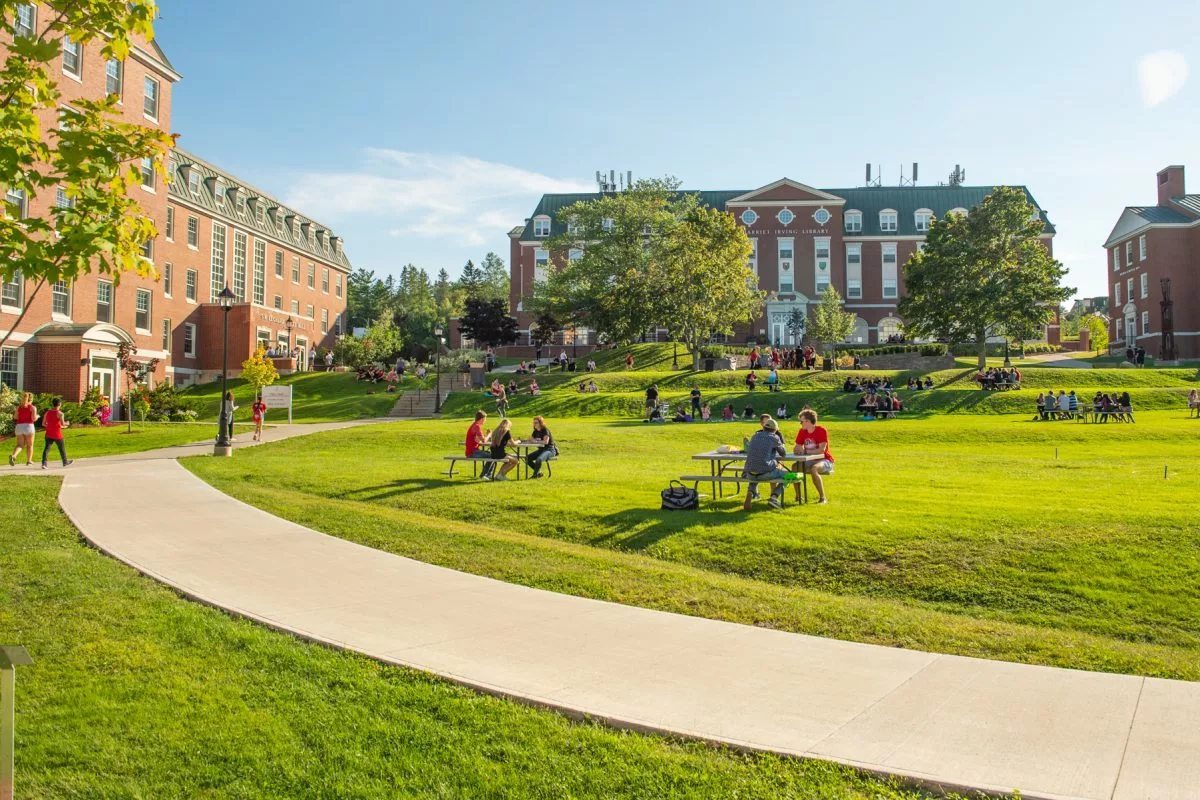 Entry Requirements:
Undergraduate:
Higher Secondary Certificate grades of 60%.
International Baccalaureate: minimum IB of 30
A-levels: AAA–ABB
Postgraduate:
The minimum entry requirements for the master's program are an undergraduate degree in computer science (or related discipline such as engineering or science), with a minimum GPA of B
English Language Requirements:
Undergraduate
IELTS: with a minimum overall score of 6.5
TOEFL: with a minimum overall score of 85
Pearson PTE: with a minimum score of 59
Postgraduate
IELTS: Minimum score of band 7
TOEFL: Minimum score of 92) including the Test of Written English
University of New Brunswick tuition fees for international students
Arts Degree: 18,323
Architecture: 18,323
Business Degree: 19,538–20,158
Engineering Degree: 21,337
Education: 18,323
Health Sciences 18,323
Nursing: 19,838
Psychology: 18,323
Science Degree: 18,323
Postgraduate:
Arts Degree: 13,707
Business Degree: 13,707
Engineering Degree: 13,707
Education 13,707
Science Degree: 13,707
Engineering Management: 13,707
Project management: 20,670
Environmental Engineering: 13,707
MBA: 29,505
University of New Brunswick International scholarships:
Undergraduate / Postgraduate
Lady Vi Aitken Scholarship
Field: Unrestricted.
Value: $10,000.
Number: 1.
Duration: 4 years.
Conditions
Awarded to a top international student who is beginning an undergraduate degree program. Selection is based on academic achievement. Consideration may be given to involvement in extracurricular activities.
Donor Beaverbrook Canadian Foundation.
Entrance scholarships: Last year, 1 in 2 students entering UNB received a scholarship! Our scholarship support ranges from $500 to $100,000.
The entrance scholarship application covers the majority of UNB scholarships available to Canadian and international high school applicants. Students admitted to an undergraduate degree program full time in the fall are eligible to apply.
Living Cost
Minimun living Cost (Bachelors): CA$30,106
Average living Cost (Masters): CA$23,250
Average on-campus living expenses: CA$9,948
Average off-campus living expenses: CA$4,200
Application Fee:
CA$125
INTAKES:
The deadline to apply for most undergraduate programs is March 31.
The University of New Brunswick follows the semester system and applications are accepted to fall term (September start), winter term (January start) and summer term (various start dates from May–August).
https://unbca.elluciancrmrecruit.com/Apply/Account/Create
University of new brunswick graduate programs
The University of New Brunswick offers a diverse range of graduate programmes in business, engineering, computer science, education, law, arts, science, and health sciences. MBA, MSc in Computer Science, MEng in Chemical Engineering, MA in Education, JD in Law, and PhD in Biology are some of the popular graduate programmes at UNB. Visit the UNB website or contact their Graduate Studies Office for a complete list of graduate programmes and admission requirements.
UNB has over 70 graduate programmes to choose from, including research and course-based options.
The university has two main campuses, one in Fredericton and one in Saint John, with many graduate programmes offered at both.
Some graduate programmes at UNB are available online or through distance education, allowing students who are unable to attend classes on campus to participate.
Graduate students are encouraged in research projects with faculty members and other students at UNB, which has a vibrant research community.
The university provides a variety of funding and scholarship opportunities for graduate students, and many programmes also provide teaching.