University of New Castle
The University of Newcastle ( UON ), informally known as Newcastle University, is an Australian public university established in 1965. It has a primary campus in Callaghan, a suburb of Newcastle, New South Wales. The university also operates campuses in Ourimbah, Port Macquarie, Singapore, Newcastle CBD, and Sydney CBD.
First compiled in 2004, the QS World University Rankings currently rank 1,000 of the world's finest universities.
In the 2021 QS World University Rankings, our university climbed ten places from last year to now sitting among the world's Top 200 Universities. Our sector has faced a number of external challenges and the University of Newcastle itself has dealt with bushfires, droughts as well as a pandemic affecting our students, staff, and communities in the past year.
The move from 207 to 197 in twelve months reflects the University's unwavering focus on delivering inspiring and innovative teaching and learning programs for our students and leading critical research breakthroughs.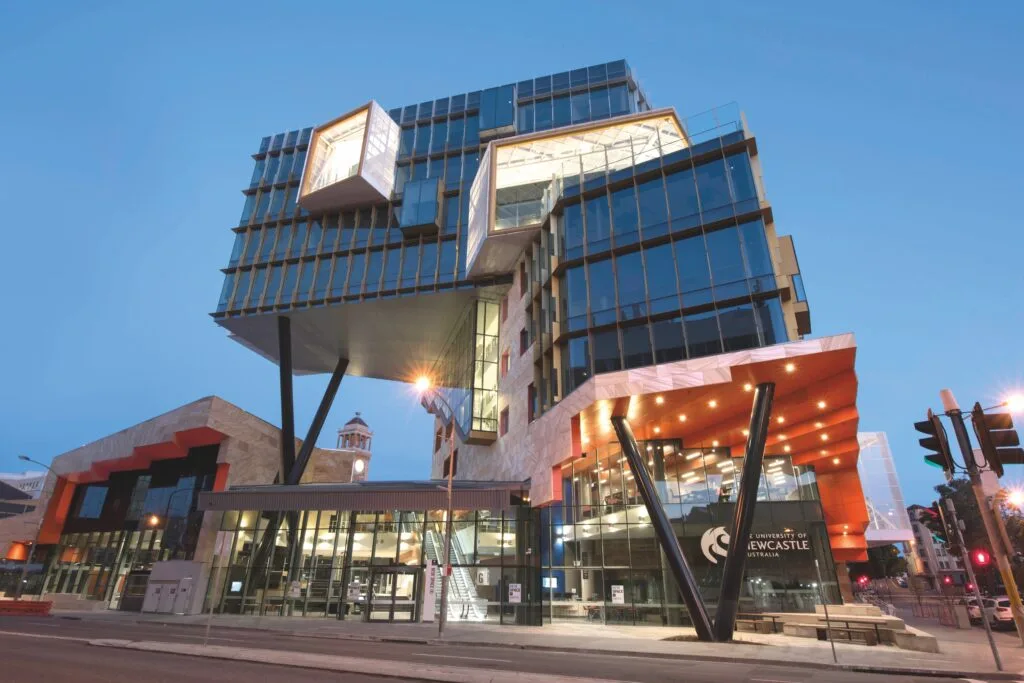 University of Newcastle Courses
university of Newcastle accounting and finance
university of Newcastle medicine
university of Newcastle biomedical science
university of Newcastle nursing
university of Newcastle MBA
university of Newcastle law
university of Newcastle physiotherapy
university of Newcastle pharmacy
university of Newcastle engineering
university of Newcastle canvas
university of Newcastle dentistry
university of Newcastle bachelor of nursing
university of Newcastle psychology
University of New Castle Admission Requirements
A-Levels: 2B,1D – 3A
Master's
Completion of Bachelor's degree with good Grades
University of New Castle English Language Requirements
IELTS –Overall 6.0 No individual band below 6.0
P.G: 6.5 (No subtest below 6.0)
TOEFL – 64 – 78 No subtest below:
Reading: 13 – 18
Listening: 12 – 19
Speaking: 18 – 19
Writing: 21 – 23
P.G: 83 – 93 No subtest below
Reading: 19 – 23
Listening: 20 – 22
Speaking: 20 – 24
Writing: 24 – 26
University of New Castle Fee
University of New Castle tuition fee for international students
Business Degree: $30,605 – 35,820 / Year
Engineering Degree: $35,820 – 38,885 / Year
Science Degree: $30,065 – 40,820 / Year
Arts Degree: $30,385 – 31,554 / Year
Master's
Business Degree: $35,385 – 40,450 / Year
Engineering Degree: $ 40,715 – 41,995 / Year
Science Degree: $ 41,995 / Year

M O profession Acct: $32,945 – 35,385 / Year
University of New Castle MBA: $39,925 – 40,275 / Year
University of New Castle Scholarships
South Asia Excellence Scholarship
Award value: AUS $40,000
The scholarship value per year of full-time study is AU$ 10,000.
The number of available scholarships: 100
No need to apply – scholarships will be automatically awarded to students who have received an offer to study in an eligible.
Students eligible for this scholarship will be citizens from South Asian counties including:
Afghanistan
Bangladesh
Bhutan
India
Maldives
Nepal
Pakistan
Sri Lanka