University of Western Australia
University of Western Australia is a public research university in the Australian state of Western Australia. The university's main campus is in Perth, the state capital, with a secondary campus in Albany and various other facilities elsewhere.
Just 10 minutes from Perth city, UWA is located on the banks of the Swan River, or Derbal Yerrigan, on the land of the Whadjuk Nation.
The UNWA has the immense privilege of sitting on the sacred soil where Western Australian kaartdijin, or knowledge, began. It has been a place to gather and learn for tens of thousands of years, with stories and lessons shared from generation to generation of the world's oldest continuous culture.
The global impact of unwa research and education places us as the world's top 100 universities (QS 2022). This means students join a community of passionate, intelligent, and resourceful leaders who are driving innovation and change. They'll connect with and work alongside leaders in education, research, and industry, and follow in the footsteps of our thousands of graduate success stories.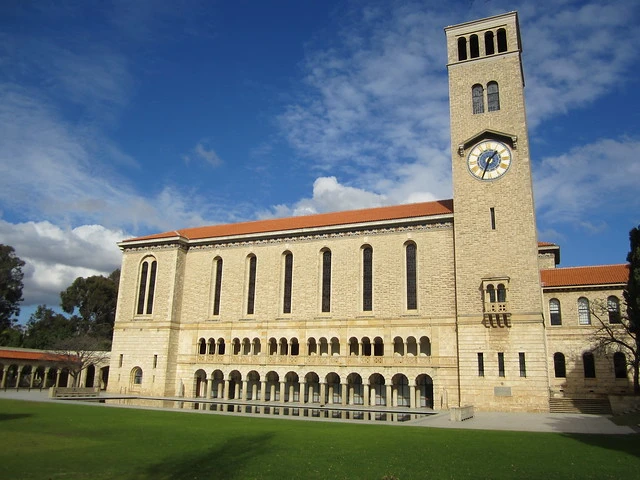 University of Western Australia Courses
Degrees are available in the following popular subjects at the university
Medicine
Nursing
MBA
Computer science
Law
Psychology
Data Science
Business Analytics
Engineering
Doctor of medicine
Biomedical science
Commerce
Admission Requirements
U.G: A-Levels BBC
P.G: 3.0 GPA or 70% in Bachelor's
IELTS: 6.0 each 6.5 overall
The University of Western Australia Tuition Fee
university of western Australia tuition fees for international students
Bachelor's
Business $39,000 / Year
Engineering $42,000 /Year
Arts $36,600 /Year
Master's
Business $36,600 /Year
Engineering $60,000 /Year
Arts $36,600 /Year
Admission Intakes in UNWA
Intake: Feb & July
The University of Western Australia Scholarships
The University offers 12000- 15000$ per year they don't offer any scholarships to Pakistani students but to Indian SriLankan, Nepal, and Bangladesh.