The University of Westminster is a public teaching-focused university based in London, UK. The university was founded in 1838 as the Royal Polytechnic Institution. The University of Westminster is ranked 701 in QS World University Rankings by Top Universities. It is ranked #1306 in Best Global Universities. It has ranked eighth in the UK for International Outlook in the Times Higher Education Young University Rankings. The acceptance rate of the University of Westminster is 16.31%.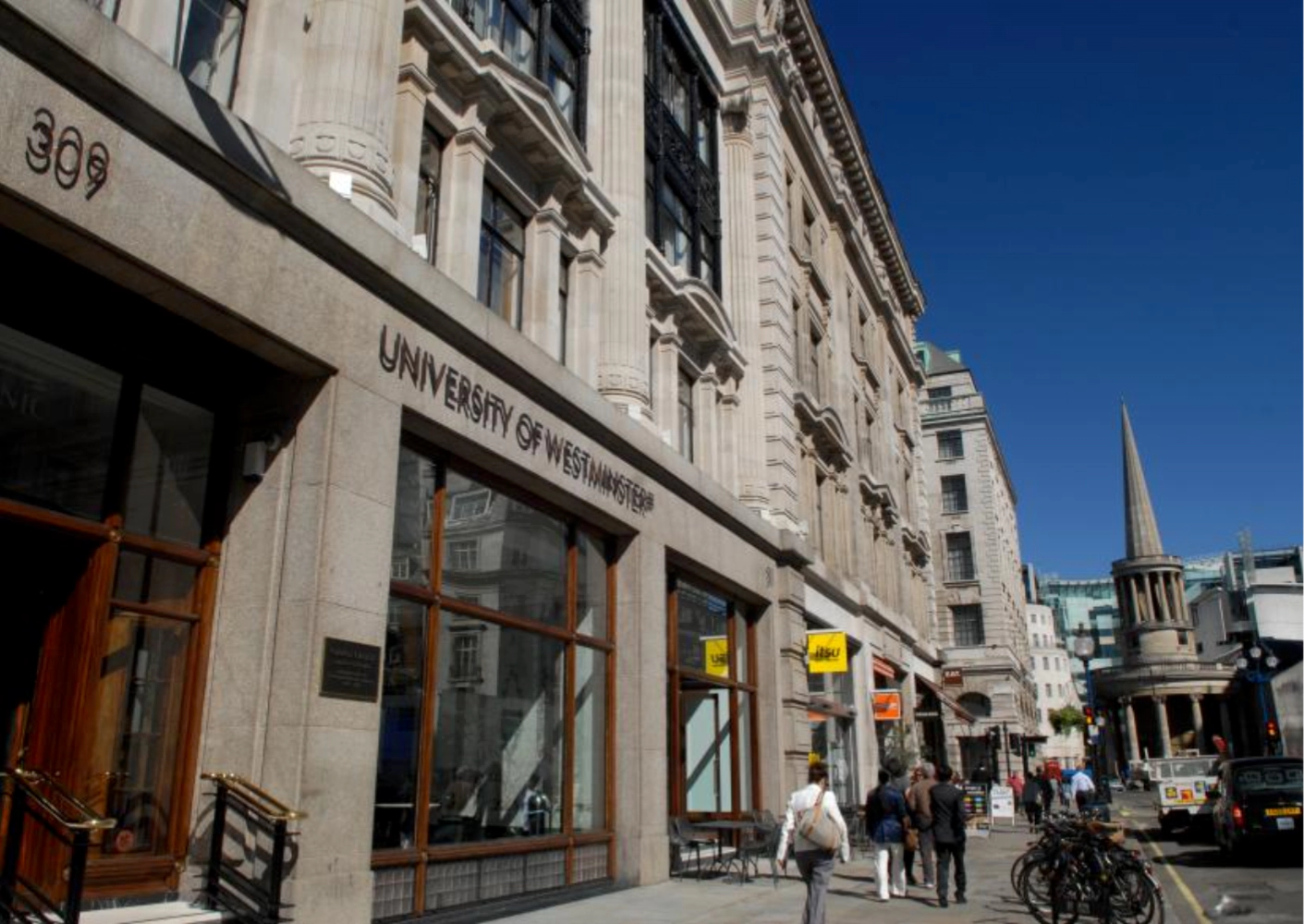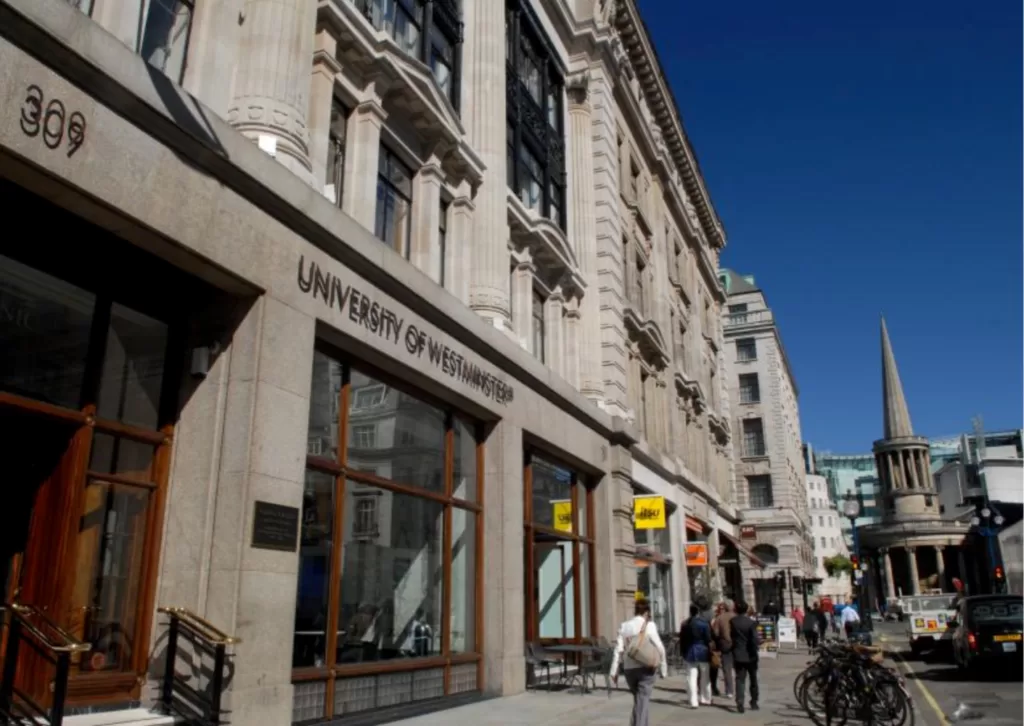 Entry Requirements
Entry into Year 1 of Bachelor's degrees (Level 4), you will typically need to have one of the following.
Diploma of Associate Engineer (DAE) with an overall average of 58% or above
2 year Bachelor's degree (pass) with an overall average of 60% or CGPA 3.0+ or Division 1 or above depending on the University
A levels: BBC to ABB —-AAB
International Baccalaureate: minimum of 30 to 34 points
Postgraduate
4-year Bachelor's degree from an accredited university with a minimum overall average of 58% or CGPA 2.8 out of 4 depending on the university
English Language Requirements
IELTS: 6.0 overall with a minimum of 5.5 in each component
TOEFL: 78 overall with a minimum of 17 in Listening, and Writing, 18 in Reading, and 20 in Speaking
Postgraduate
IELTS: 6.5 overall with a minimum of 6.0 in writing. A minimum of 5.5 in all components
TOEFL: 92 overall with a minimum of 20 in Listening, 24 in Writing, 19 in Reading, and 20 in Speaking
The University of Westminster fees
Arts Degree: 14,400
Architecture 14,400
Business Degree: 14,400
Engineering Degree: 14,400
Education 14,400
Health Sciences 14,400
Law 14,400
Nursing: 14,400
Physiotherapy: 14,400
Psychology: 14,400
Science Degree: 14,400
Postgraduate
Arts Degree: 14,000
Architecture 14,400
Business Degree: 13,000–19,000
Engineering degree 14,000
Health Sciences 14,000-15,000
Law 15,000
Science Degree: 14,000—15,000
Project management: 14,000
Renewable energy: 14,000
Data Science: 14,000
MBA: 19,000
Psychology: 15,000
Public health: 14,000
University of Westminster scholarship
Westminster Undergraduate Full Scholarship
Brief description
Westminster's Undergraduate Full Scholarships are the University's most competitive scholarships that are open to international students from developing countries who wish to pursue a full-time Undergraduate degree at the University of Westminster.
Host Institution(s)
University of Westminster, United Kingdom
Level/Field of study: Any eligible Undergraduate Programme offered at University of Westminster.
Number of Awards: 3
Scholarship value/inclusions/duration
Full tuition fee waivers, accommodation, living expenses and flights to and from London. The scholarship will be renewed each year subject to satisfactory academic performance.
Eligibility
You must be an international student from a developing country and hold an offer for a full-time undergraduate degree at the University. The criteria for awarding the scholarship are academic excellence, development potential and financial need.
HOME POSTGRADUATE PART FEE SCHOLARSHIP
Amount: One-off 2,000 Tuition Fee Award paid directly to the University towards your tuition fees in your first semester. Students on two-year postgraduate or part-time courses will receive the award for their first year only.
Eligibility
You must hold an offer on a full-time Master's course starting in January 2023 at the University of Westminster.
Must have a 2.1 honors degree
You are not eligible to apply if you already have a postgraduate degree.
Please note that if your course falls into one or more of the below categories then you are not eligible to apply for a scholarship:
Postgraduate Diploma
Professional courses (eg RIBA pt III, ACCA, CIMA, CiLEX)
Conversion courses (eg Graduate Diploma in Law)
Integrated Masters/MPhil/PhD student
Criteria
Selection based on academic merit and personal statement.
Number Available: variable
Deadline 28 october 2022