University of California Berkeley was founded in 1868. It is the Best University in America and the oldest of the ten public institutions in the city of California.
University of California Berkeley offers programs and courses across 14 schools and colleges. Its 130 academic departments include those for chemistry, education, engineering, environmental design, business, information, journalism, law, letters and science, natural resources, optometry, public health, public policy, and social welfare.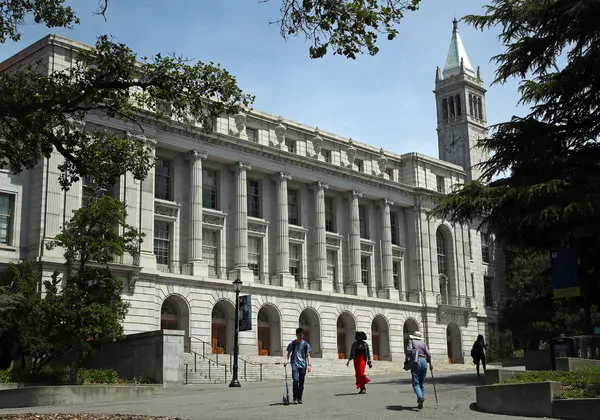 Admission Requirements:
Regardless of nationality or course of study, all applicants, including those from abroad, must achieve the baseline standards for UC admission, which include the A-G course sequence, a minimum GPA of 3.4, and either the SAT with Essay or the ACT with Writing tests.
University online application
Application fee 70$ / $105 P.G
Application deadline: Nov 30th
Official ACT or SAT scores
SAT 1450 / ACT 33
Scores from either the GRE or the GMAT exam
GRE 318 / GMAT 715 / GRE quantitative 157 / GRE Verbal 161
TOEFL IBT 90
IELTS: overall score of 7
University Tuition Fees:
As a prospective international freshman, budget $70,000 per year, which covers all expenses including round-trip travel from your home country.
Also, unless you are a recruited student-Athlete, expect Berkeley to provide you with little to no financial aid.
Bachelors 45,384 / Masters 33,910$+ Engineering 55,745
Average Admission Requirements:
At UC Berkeley, the average GPA is 3.89. image explanation. (The majority of schools utilize a weighted GPA of 4.0, although some report an unweighted GPA.) with a 3.89 GPA
Percentage: 86%
IB: 37
GPA: 3.5
University Acceptance Rate: 17%
Requirements may vary for each program. Please visit the program page for specific requirements.
University Scholarship:
There is a separate application process for merit scholarships, for which international students are eligible to apply. Additionally, a foreign student from Sub-Saharan Africa may apply for the MasterCard Foundation Scholarship, which pays the entire cost of tuition for chosen applicants accepted to UC Berkeley (or any other US options of AZ State, Duke, MI State, and Wellesley). No need-based scholarships are available to accepted overseas students at UCB.
It is important to note that under the California Dream Act II, non-resident aliens who were exempted under AB 540 and who attended a California high school for three years in a row starting in 9th grade are eligible to enroll in any California public university, including UC Berkeley, and pay resident tuition rates, which lowers their overall costs.
They don't have any grants, scholarships, or financial aid for an international student, but the university provides a platform called SCHOLARSHIP Connection that international students can use for Outside Scholarships. Please open the below-mentioned link in the description for details.
International student contact