The University of Texas at Austin
The University of Texas at Austin, informally UT Austin is a public research university and the Flagship University of the University of Texas System, founded in 1883.
The University of Texas at Austin is a bold, ambitious leader supporting 52,000 diverse students, 3,000 teaching faculty, and top national programs across 18 colleges and schools. As Texas' leading research university, UT attracts more than $650 million annually for discovery. Amid the backdrop of Austin, Texas, a city recognized for its creative and entrepreneurial spirit, the university provides a place to explore countless opportunities for tomorrow's artists, scientists, athletes, doctors, entrepreneurs and engineers.
The University of Texas Programs
Cockrell School of Engineering, College of Education, College of Fine Arts, College of Liberal Arts, College of Natural Science,
College of Pharmacy, Dell Medical School, Jackson School of Public Affairs, Mc Combs School of Business,
School of Architecture, School of Law, School of Nursing.
The University of Texas at Austin (utexas.edu)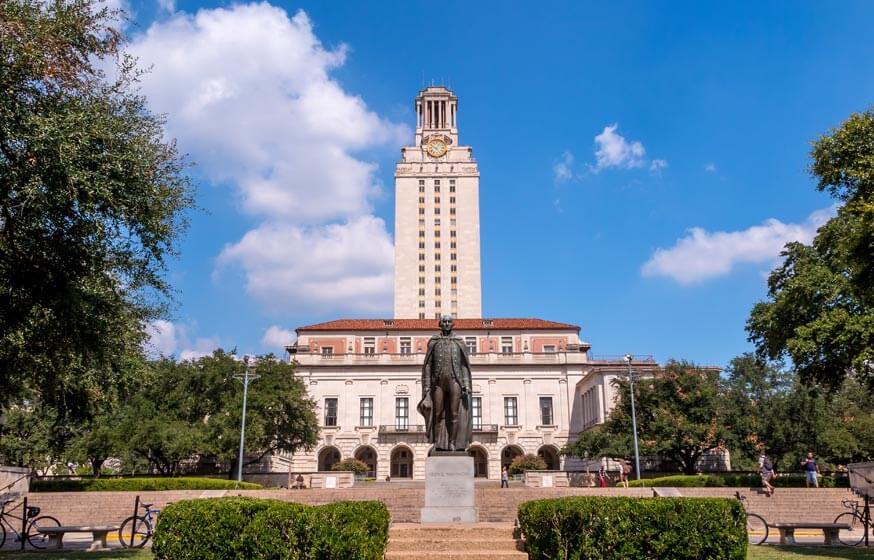 University of Texas Austin Admission Requirements
University online application
University of Texas Austin Application Fee: 75$
Application Deadline: Dec 1st
Official SAT/ACT scores
University of Texas Austin SAT Requirements: 1335 / ACT 31
Scores from either the GRE or the GMAT exam
University of Texas Austin GRE Requirements: 308 /GMAT 630  / GRE Quantitative 156 / GRE verbal 150
University of Texas Austin TOEFL: PBT 550, CBT 213 or IBT 79
University of Texas Austin IELTS Requirements: 6.5
University of Texas Austin Tuition Fees: $40,032 / Year
Average Admission Requirements
Percentage: 80%
IB: 37
GPA: 3.6
University of Texas Austin Acceptance Rate: 40%
Requirements may vary for each program. Please visit the program page for specific requirements.
International student contact
Sonia Feigenbaum
PhD
Senior Vice Provost for Global
Engagement and Chief
International Officer
(512) 471-2477
hotline@austin.utexas.edu